Disclosure: Some of the links to products below are affiliate links, meaning, at no cost to you, I may earn a commission if you click through and make a purchase. It helps me create content like this for you, and I thank you for your support.

A New Book To Help Parents Navigate Today's Distraction-Filled World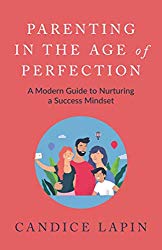 For several months, I've been doing some work for The Ladder Method, a meta-learning and study skills company in Los Angeles that specializes in teaching students how to learn. We show children how to study for a test, how to organize their calendar, how to prioritize, how to develop focus and stamina—in other words, skills for life!
I'm excited to let you know that the company founder, Candice Lapin, has just published a book, Parenting in the Age of Perfection: A Modern Guide To Nurturing A Success Mindset.
I read a draft of the book this summer and I found the content so useful, I had to share it on my blog (even though it's not chainmaille-related at all!). Many B3 readers are parents or grandparents, and I thought you especially would be interested in this book. It's for any parent who is ready to help their child move to place of positivity, confidence and resilience.
From the back cover:
We have become a culture wildly afraid of imperfection. In our insta-everything world, we give people 'our good side.' We pose. We curate. An entire generation is broadcasting their experiences as if they are spokesmodels for the perfect life. Welcome to what meta-learning expert Candice Lapin has dubbed the Perfection Age. In a world like this, the pressure for surface appearances has created no room for mistakes, compassion nor imperfection. The result is a crisis of confidence. In Parenting in the Perfection Age, Lapin draws on case studies, scientific research, and her own experiences as a successful learning and life coach to showcase patterns that feed into the environment of perfection, along with tools and skills to get children back on track. In this book, parents will learn the techniques that Lapin has successfully used to transform her client's lives.
Having met many of the tutors, academic managers, coaches and students of The Ladder Method, I've seen firsthand the impact Candice's methods have on children's lives.
I highly recommend this book.