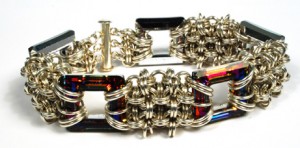 We're thrilled that Blue Buddha is all over this issue of Step by Step Wire Jewelry magazine!  Our weaver/instructor Vanessa Walilko has a fabulous chainmaille project based on Japanese 8-2 cubes.  The project is called Squares with Flair, and it also uses some of the new Crystal Squares on our Beads/Findings/Specialty page.  This bracelet is some serious bling, with more than 400 F18 sterling silver jump rings used.  Of course, we've got kits bagged and ready to go for this piece.
Step by Step's Artist of the Year, Charlene Anderson, also uses Blue Buddha Boutique rings in many of her projects, including the fabulous beaded Isle of Capri necklace featured prominently on the Table of Contents.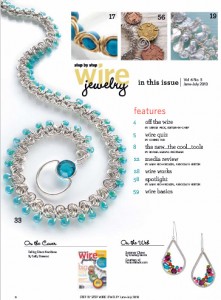 Remember to check our Magazine Projects page for conversions for all jump ring sizes in as many magazine issues as we can get our hands on!  We'll be updating that page soon.