The final installment of our Bead&Button photos features the really fun stuff: the jewelry! Most of these are my favorite entries from the Bead Dreams competition. The final three images are other lovely jewelry I saw during the show. Enjoy, and be prepared to drool a little.
Variations of a Peacock by Stephanie Czaja
We are proud to say that Stephanie was a Blue Buddha intern for a short time (before an actual job changed her schedule and meant she could no longer come in). Congrats Stephanie!

---

Chainmaille Jacket by Vanessa Walilko
2nd Place, Wirework category AND People's Choice Award
Woo! Way to go, Vanessa!
You of course, all know and love Vanessa already through her work at Blue Buddha. See more of her armor and sculpture creations at Kali Butterfly Dark.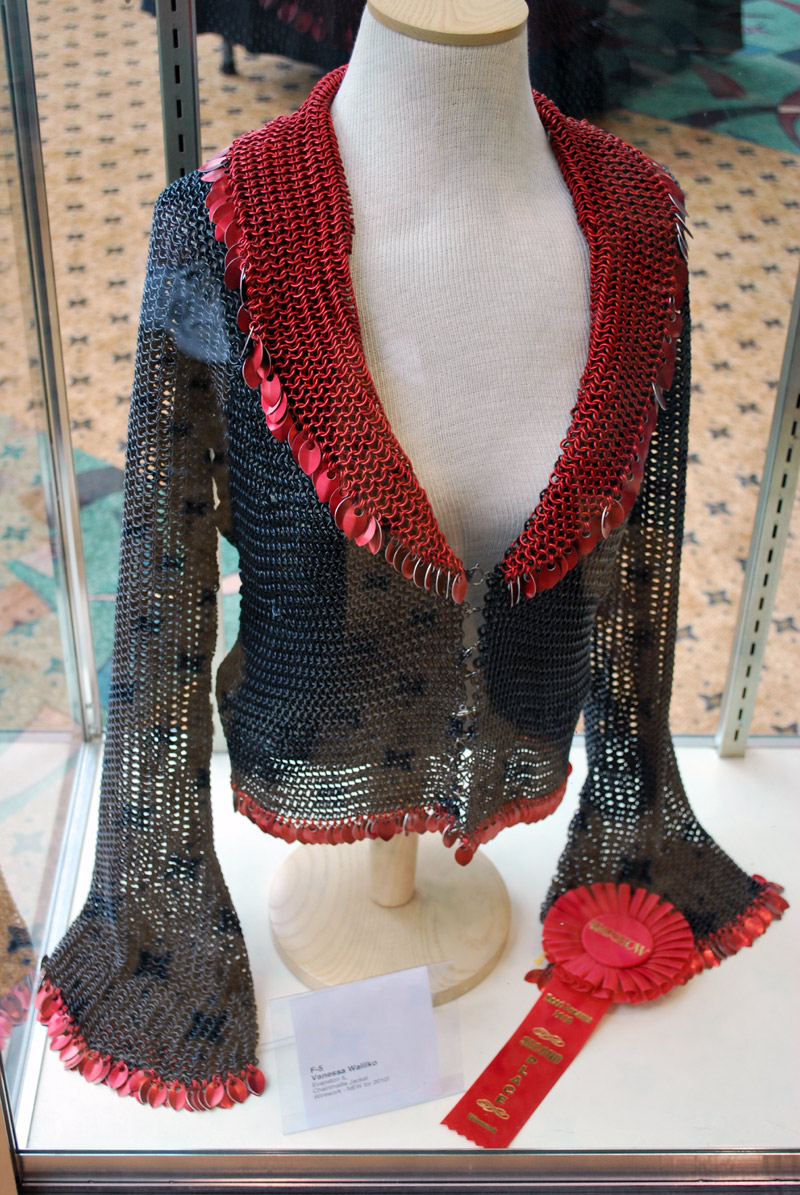 ---

Flight of Fancy by Rachel Reilly
1st Place, Wirework category
Facets of Avalon Amazing microknitted wire. (I don't think microknitting is a word, but I'm using it anyway just to convey the eye-popping reaction I had to this piece! Simply amazing.)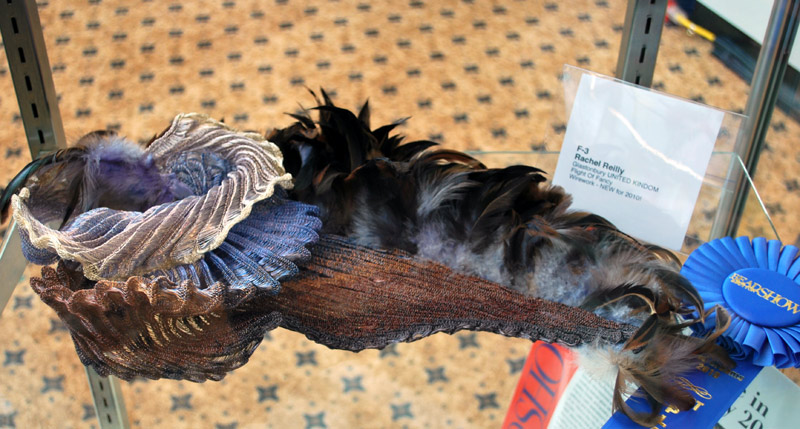 And because you can't really appreciate Rachel's piece unless you see it close up, here is a detail shot: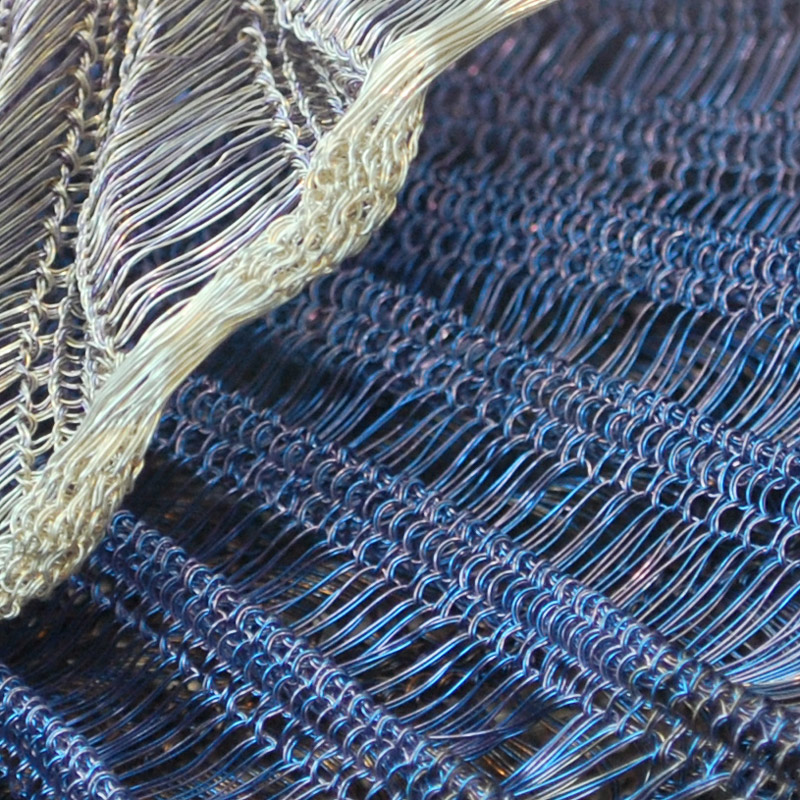 ---

White Clovers and Clovers by Yukiko Yamamoto
2nd Place, Seed Bead Jewelry
All you seed beaders are nuts. I couldn't even begin to imagine how this is put together.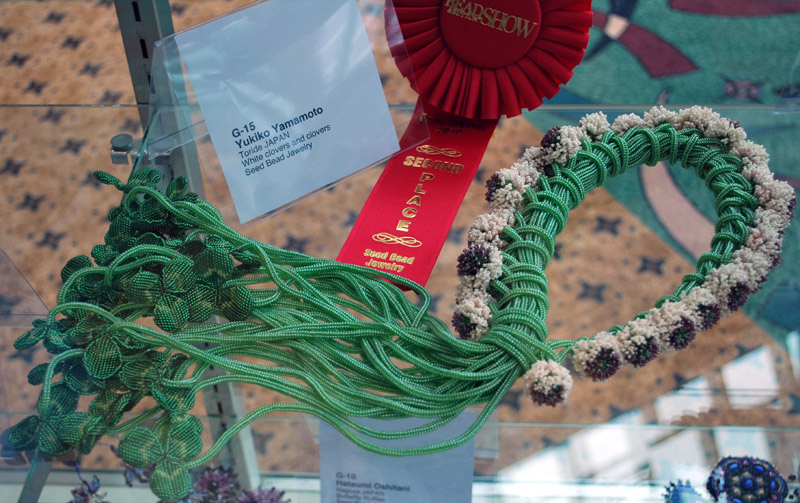 ---

Warrior Rings by Lynn Davy
Lynn Davy Beading
*nods of approval* Though we still think seed beaders are nuts.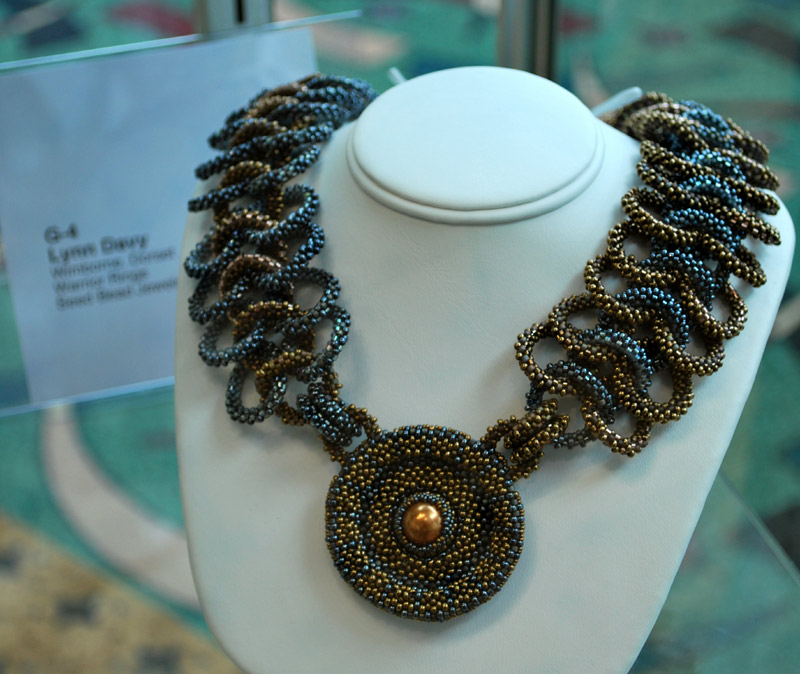 ---
The Stone Flower by Tatiana Fitzpatrick
J & T Design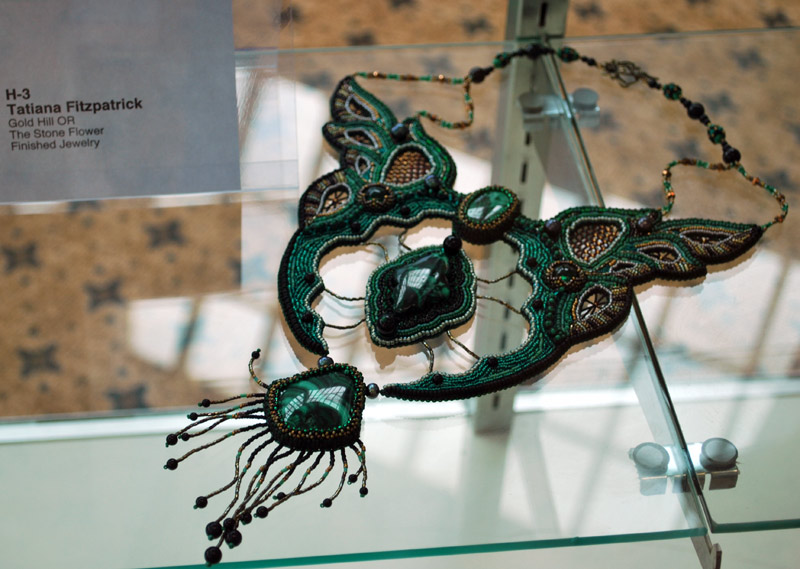 ---

Himalayan Blue Poppies by Barbara Caraway
View Barabara Caraways portfolio on GlassArtists.org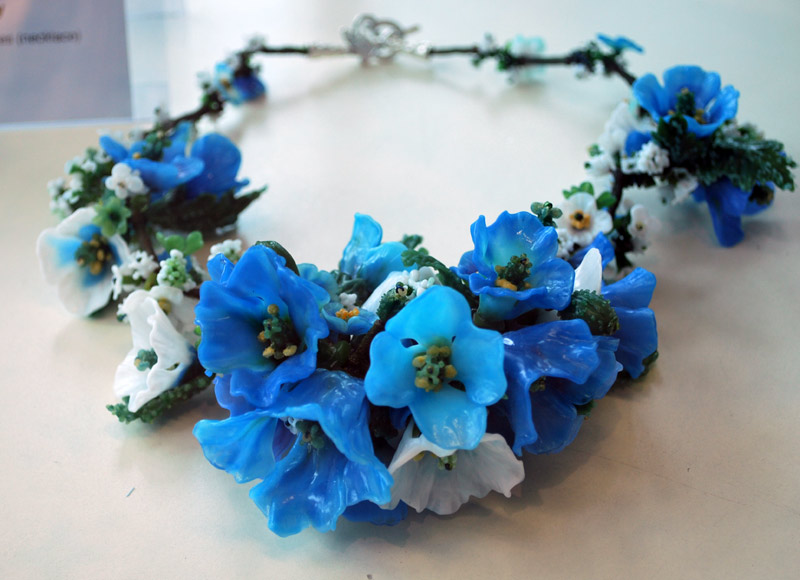 ---

Cigno Sinistro (sinister Swan) by Sara Sally Lagrand
3rd place, Lampwork/Glass
What can I say? I love eyeballs.
Pretty Babies Glass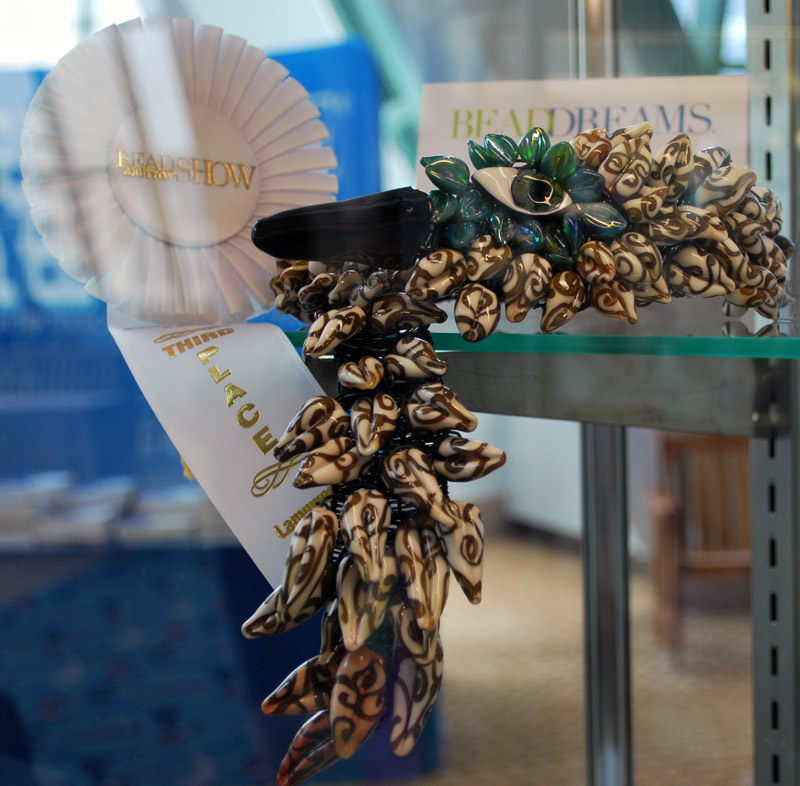 ---

Nitidus Quasar by Pamm Horbit
White Lotus Beading
Nitidus is a latin word meaning "explosive bloom."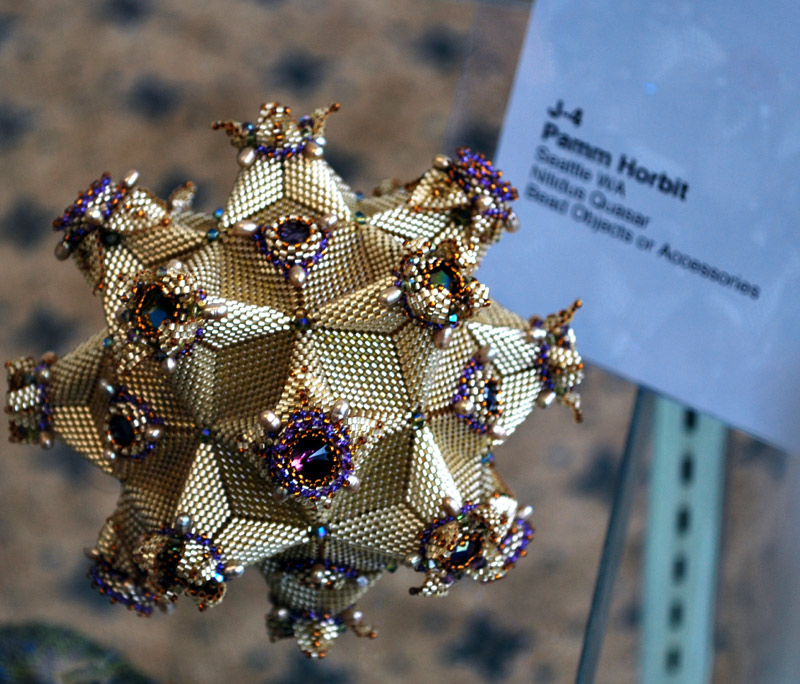 ---

Beautifully Baroque by Lynn Ann Schwarzenberg
River Poet Design
1st place, Polymer Clay
What this woman does with clay is amazing. I love creating customized niobium chains to match her polymer clay pendants.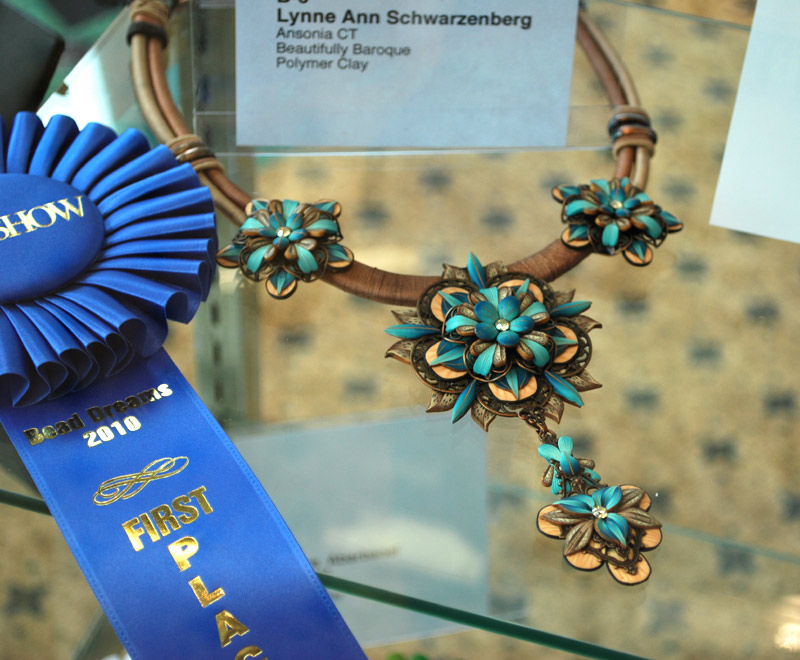 ---

Finally, here's some other jewelry that I fell in love with during the show.

Flower of Life Bracelet made by a customer of A Beadtiful Thing, by joining several Flower of Life segments together.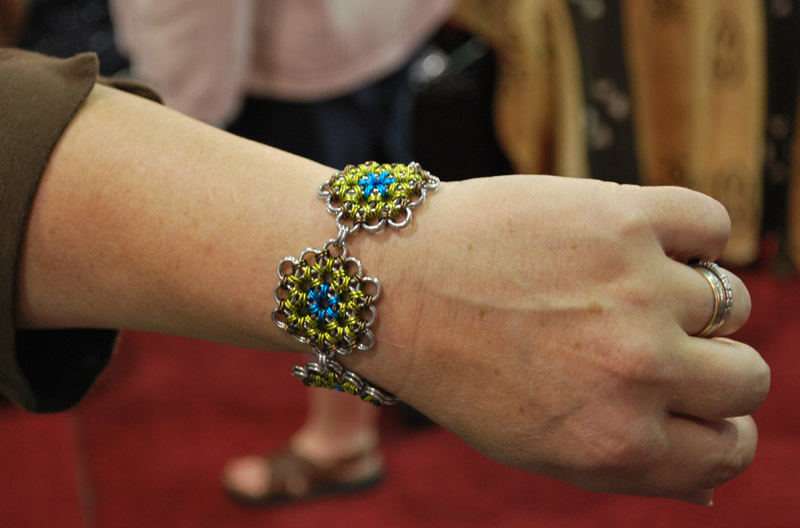 ---

Omni bought some scales on Friday during the show, then showed up at the booth the next morning with a spiffy new badge chain. Cool!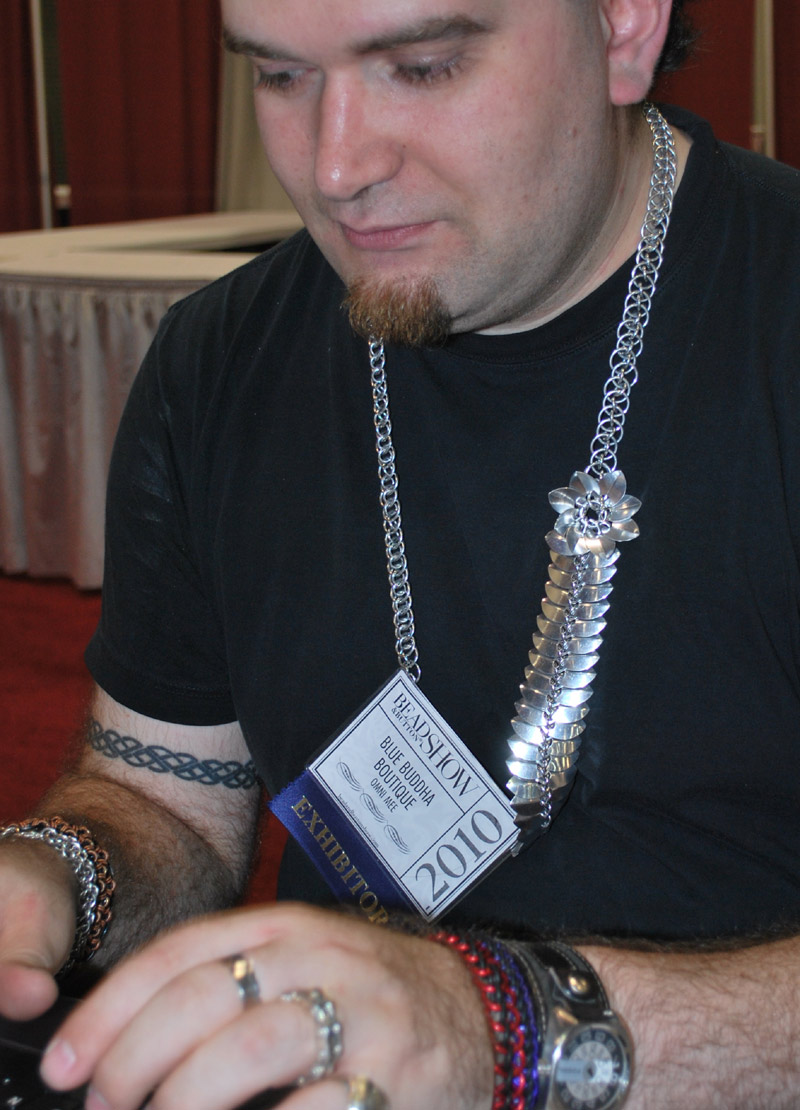 ---

And finally, one of my personal favorites from the entire show is this stunning reversible necklace made with rubber and aluminum by B3 student/customer Sarah Meadows. She's got other beautiful pieces in the works, and I'm encouraging her to try for Bead Dreams next year!