We just wanted to take a moment to thank every one of you who helped make this another great year at the Bead&Button Show.  Whether you signed up to be a booth helper, stopped by our booth to say "hello", shopped our supplies, waited patiently for your order while we finished prep work or simply sent good vibes our way – we thank you!
We have already posted our favorite pictures from this year to our page on Facebook, but we thought we'd share some of them here alongside some favorite parts of the show from our B3 team members who were there.
---
Jen Hohe / B3 Inventory Coordinator and Weaver
I always enjoy seeing the reactions of the "Zed-head" winners. And, I have to give props to some of them for making it up there so fast!  One of the winners ran up with a stroller!
This year I also really made it a point to meet and say hello to some of our vendors. It's always nice to be able to put a face to the name and voice (or email).
---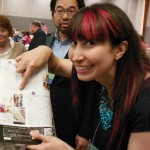 Rebeca Mojica / B3 Owner + Founder

I loved teaching overall–the B&B students are so dedicated and enthusiastic!  My favorite moment was teaching Elemental Leaves and watching a complete novice go from a deer-in-the-headlights-oh-my-goodness-what-have-I-gotten-myself-into look at the beginning of the class, to a look of absolute joy when she completed her piece by the end of the session!
---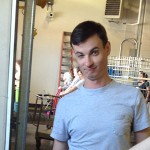 Jason Scerena / B3 Quality Control Specialist

One cool thing from the show was people coming from the "Make 'n' Take" table to the checkout proudly wearing the earrings they had JUST made there and buying supplies to get started making more chainmaille.
---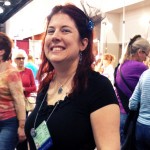 Lisa Rosenberg / B3 Order Processor

During my "Make and Take" session, I helped a senior woman who told me she had not done beading or craft stuff in 40 years. The moment she opened the bag of rings her eyes lit up and she exclaimed how easy they were to see, and use!
After she learned the basic of opening and closing the rings she commented to me how patient I was and thanked me for helping her get her confidence back. She then proceeded to buy many items in the booth including a CHAINED book.
---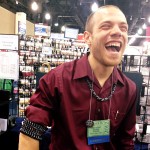 Dan Rychtarik / B3 Quality Controller

During the make and take on Friday, there was an adorable senior woman who had never done chainmaille before but was determined to do some on that day.  She may have taken longer to do the earrings than many of the other patrons, but she couldn't have been less stressed about taking as long as she did.  There were many open seats at the make and take table when she showed up so I just sat down with her basically one-on-one and we worked it out and got it done. *grin*  Her attitude towards making chainmaille just made my day.