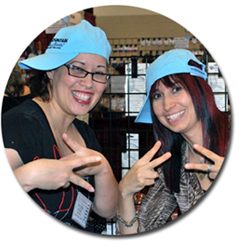 The Talented Chainmaille Specialists at B3
Blue Buddha Boutique, a diverse line of chainmaille supplies and finished jewelry, was launched by self-taught artist Rebeca Mojica in 2003. First operated out of Rebeca's spare bedroom as a one-woman business, Blue Buddha has grown to a staff of several full- and part-time employees, with interns and guest contributors helping the company thrive. Originally handling only local orders, the company now has customers in all 50 states and nearly 40 countries. Blue Buddha prides itself on outstanding customer service, precision-sized rings, and amazing chainmaille designs.
Good employees and excellent leadership are crucial for any successful business. Blue Buddha is proud to have a very dedicated and talented team. Take a moment and get to know more about each employee below.
---

Nadja Aller
General Manager
Nadja keeps the staff on target to meet daily, weekly and monthly goals. She has spent a good chunk of time inputting data and tweaking our database so that our systems will be fully integrated. Her efficiency & down-to-earth brain is a good counterbalance to Rebeca's flurry of artsy ideas.
---
Nadja joined B3 with a long history in retail but as a novice in chainmaille so she jumped in and started learning weaves right away. She spends her spare time being a terrible cat lady, dealing in vintage home goods, posing 1:6 scale figures, constant reading, watching cartoons and martial arts films and being very domestically inclined. Nadja enjoys nothing more than Hank Sr. and achieving perfect Paulette Goddard hair. That's the stuff. She is also fully dedicated to keeping Blue Buddha the best place to work in the known Universe.
---


Emily Fiks
Product Manager
Emily manages our product database, crunches lots of numbers and is in charge of coordinating new product launches
---
Emily came to Blue Buddha as an inventory assistant in the summer of 2008. Originally arriving here nearly oblivious to chainmaille jewelry, Emily started to feel connected to the art after one class at Lillstreet. Chainmaille products take up a lot of her time now that she has graduated from Northeastern Illinois University. She received a BA in English and a minor in Art History. When not at B3, Emily loves making her own jewelry, vintage clothing, thrift stores, collecting records, and cooking.
---


Jennifer Hohe
Purchasing Kingpin
Jen is responsible for purchasing and protecting our inventory—all 10 million or so rings that are in our studio at any given time! She works with our vendors and ringmakers to continually improve the quality of our jump rings and other supplies.
---
While pursuing her degree in Art at Northeastern Illinois University, Jen took a Metals class out of interest, immediately fell in love with the medium, and has since attained her BA in Small Metals/Jewelry. Jen is addicted to the painstaking, step-by-step processes involved in creating wearable pieces of art. In addition to making jewelry, Jen enjoys creating small-scale sculptures and two-dimensional framed metal "paintings". Her work is influenced by themes of nostalgia, emotion, and sentimentality. She hopes to one day have her own little space to sell her work.
---


Matt Hucke
Dark Master of Chaos
Matt keeps the web servers running, installs software on them, and does all the custom programming necessary to keep the orders flowing smoothly.
---
Originally from the St. Louis area, Matt has lived in Chicago since 1993. In 1996, he created the Graveyards of Illinois website. This led to a collaboration with author Ursula Bielski, resulting in their book, "Graveyards of Chicago", being published in 1999. He continues to explore graveyards at every opportunity.
---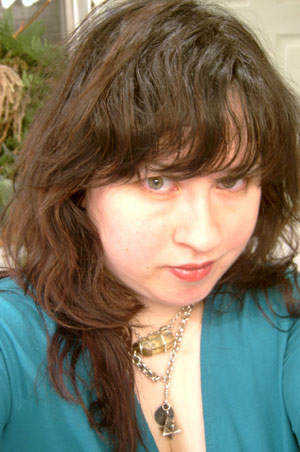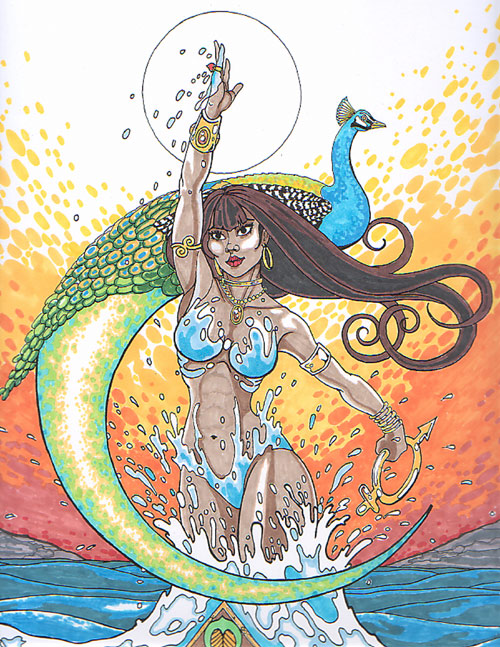 Aimee Leang
Customer Care Supervisor
The friendly voice who answers most of our calls and helps you complete your phone orders belongs to Aimee. She helps answer emails, supervises the customer care team, and ensures that customers are fully satisfied with their B3 experience.
---
Aimee Leang's jewelry making obsession began at her first summer job working for Gallery 37's jewelry making program. After that Aimee's Mom gave her a set of tools and her creativity took off. Aimee is well versed in the skills of wire-wrapping, metalsmithing and lapidary. She still continues to take lessons and looks forward to increasing her awareness in the chainmaille arts. Having an eye for detail, Aimee enjoys helping out at B3 and is proud to be part of such an incredible team.
---

Darlene Ostrowski
Intern Supervisor
Darlene officially joined the B3 team in 2013 after helping out in our booth at the Bead&Button show for two years before that. Currently, she works hard to fill orders and get them to you quickly. She is in charge of our interns, helping them learn and grow in the craft!
---
A born-and-raised Chicagoan, she enjoys making jewelry with skulls, bats, spiders, sinister sea creatures, and other creepy things, and owns a goth chainmaille company, Do Bats Eat Cats?. When she's not weaving maille or working a show, she devours postapocalyptic YA fiction (her English lit professors would be so proud!), and is an enthusiastic, if somewhat incompetent, organic vegetable gardener.
---

Julia Rochholz
Retail Supervisor / UnicornusGlitterae / Junicorn Sparkles
Julia runs our retail store and is responsible for finding all of the great artisans and crafters we represent. She keeps our chainmaille supplies stocked, does all of our displays and coordinates our classes and events.
---
A sunshine girl at heart, Julia moved from California to Chicago when she was just 12 years old — and at that young age was already expressing her creativity with a paint brush. She followed through on that love of painting and turned it into a degree from UW Madison. These days she enjoys teaching yoga, face and body painting, as well as sewing and crafting in many different media, though chainmaille is fast becoming a top contender.
---


Jason Scerena
Electric Wizard
Jason joined our team in October 2009 and is responsible for anodizing niobium. Attendees of the Bead&Button Show probably recognize Jason as one of our booth helpers. He also produces entertaining and educational content for our Youtube Channel.
---
Born not so long ago, in a land not too far away, Jason was drawn to the city of Chicago for it's rich culture and proximity to home. He attended the Illinois Institute of Art where her obtained a Bachelors of Fine Arts in digital media and animation. You will soon be able to see his work at JasonScerena.com. He has a variety of hobbies and interests which include shiny objects, painting miniatures, pretending, growing plants, comics, learning, yard sales, art, geology, mythology, funology. Being an avid game player and a fantasy aficionado, he was no stranger to chainmaille's protective capabilities, but was surprised that it had applications outside armour. He's proud to be a part of our growing team.
---


Meredith Yelton
Quality Controller
Meredith is hands on in the ops department, doing quality control, making ring packs, and well...anything else that needs doing!
---
Meredith made her way to Chicago from the great state of Kentucky after earning a degree in Fine Arts and marrying a comedian. She then fell in love with all things jewelry and started her own pearl jewelry business, La Petite Pearls. Painting is her first love though, and when she's not keeping her sanity in paint, she designs jewelry, takes photos, watches nature documentaries, laughs at her husband, and like any true Kentuckian, listens to banjo picking, knee slappin' bluegrass.
---