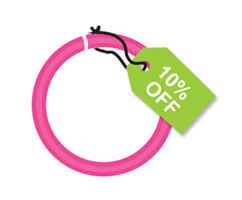 Blue Buddha Discount Programs
We offer a variety of discount programs to meet the needs of a wide variety of maillers. Whether you are a hobbiest getting rings for a few different projects, a designer stocking up to complete an order, or a store looking to sell our product, we have a program that will meet your needs.
---

Buy More Save More Ring Packs
Our Buy More Save More discount applies to all 250 and 1000 packs in aluminum, copper, jewelry brass, bronze, stainless steel, anodized aluminum, enameled copper, and rubber. (Note: for larger sizes such as T14 and X12 AA, the discount is applied to the two largest pack sizes available for that size.) Also included in the Buy More Save More is niobium in any regular pack sizes that we sell.

Just look for this symbol and start saving today!
Buy More Save More - select multiple packs across any of these metals to enjoy the following discounts:
# of packs
required
ALUM
SSTL
BRNZ
COPP
JBRS
AA
EC
RUBR
NIOB
5-9 packs
5%
5%
5%
5%
5%
5%
5%
5%
5%
10-19 packs
10%
8%
10%
8%
10%
10%
10%
8%
8%
20-29 packs
25%
12%
20%
12%
20%
20%
20%
12%
10%
30-49 packs
35%
18%
25%
18%
25%
25%
25%
18%
12%
50+ packs
40%
25%
30%
25%
30%
30%
30%
25%
20%
---
For Retailers
For stores, we offer pre-packaged rings in small quanities (usually 100 pc or 250 pc). These rings are neatly packaged and quality-controlled for resale, allowing you to sell the rings at prices comparable to those listed on our website. We also package most of our kits for resale purchasing. You must provide Blue Buddha with a copy of your business license and your tax ID certificate in order to join our resale program. Please contact us at [email protected] if you are interested in finding out about how purchasing our rings can help boost your store's sales.
---