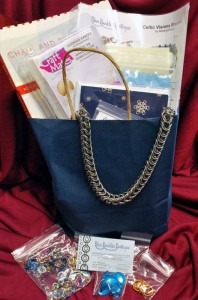 If you're attending the Bead&Button show in a few weeks, here's your chance to win a goody bag stuffed with Blue Buddha products.
Each bag contains a variety of chainmaille supplies (and a few miscellaneous items) worth at least $75.
To win one of these bags, here's what you have to do:
1) Locate our ad in the Bead&Button show program
2) Look for Zed the cat hidden in the ad. (There are three cat heads, all of which are tricky to find.)
3) Find at least two Zed heads.
4) Be one of the first three people at our booth—#1154-1156—each day of the show and point out the Zed heads that you've circled in your show program.
And that's it! Assuming you're one of the first three people to correctly identify at least two Zed heads, the goody bag is yours!
One goody bag per customer, please. Share the chainmaille love!
We anticipate that there may be a mad dash toward our booth for these coveted bags (especially on Thursday and Friday). Please be respectful toward your fellow Bead&Button patrons while participating in this mad dash.

See you in a few weeks!