CALLING ALL ARIZONANS & ANYONE ATTENDING THE GEM & MINERAL SHOW!
Rebeca will be heading your way February 2-5 and you have 4 great chances to meet and learn from her.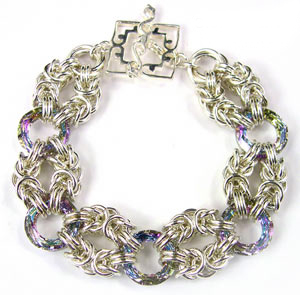 She will start the week at the Create Your Style Show on February 2nd.  Create Your Style highlights jewelry artists of all kinds who integrate SWAROVSKI ELEMENTS into their work for added sparkle and allure.   Rebeca will be teaching her Crystal Ring Byzantine bracelet project which was featured on the cover of Wirework 2010. This beginning level project uses SWAROVSKI cosmic rings to elevate the well-known byzantine weave to a new level.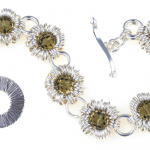 From there, Rebeca will head to A Beaucoup Congé Beads in Tucson to teach two more classes.  She will be teaching her beginning level Coiled Crystals project as well as her intermediate level Zig-Zag Lancelot project.  Visit the Tucson class page for additional details and to register.  Spots are limited so sign-up today!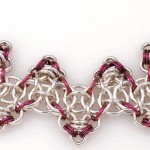 Finally, Rebeca will finish her visit to Arizona with a CHAINED book-signing also at A Beaucoup Congé Beads.  Join her on Saturday, February 5th from 2:30-4:30pm for your chance to buy the book, meet the author, and enjoy refreshments.  As an added bonus, the first 30 guests will receive a free Arizona Designer Craftsmen tote bag!


We sincerely hope all you Arizonan weavers can come out and say hello at one or more of these events.  It's so rare we get to meet folks face to face (although we are hoping to expand our travels in the coming years) and it's always a blast when we get our weave on with you!  For more information and to register for any of the classes mentioned above, please visit the Tucson class page.