Even though many folks around us here in Chicago are in full, post-holiday hibernation mode, we're not letting the weather scare us away from venturing out to get our weave on with you folks.  Check out what we've been up to the past couple weeks!

At the end of January, B3's Kat Wisniewski had the great pleasure of teaching a workshop at the Chicago Craft Social. This event, which features crafts of all kinds, happens a couple times a year here in Chicago and the event on January 22nd was, in Kat's words, "insanely busy for us."  Insanely busy also means hugely successful as people clamored to make the Japanese Cross Earrings from CHAINED for the entire 3 hours of the event.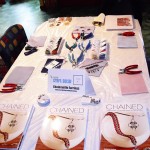 Kat actually said some people waited for almost 2 hours just to be able to sit at her little 5 foot table (a tight fit for the 6 crafters we were able to squeeze around it at a time!)  While Kat was rightfully exhausted at the end of the event, she was thrilled that everyone was so excited about the project and that she was able to introduce B3's unique take on the art of chainmaille to so many folks.  (More pictures to come from this event – stay tuned!)
=====================================================================================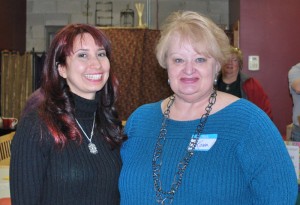 On the same day in another part of the state, Rebeca had a super-successful book-signing at A Beadtiful Thing in Aurora, IL. Lot's of folks came out to have their book signed by Rebeca (seen right with ABT store owner, Karen), enjoy refreshments, and shop for CHAINED kits.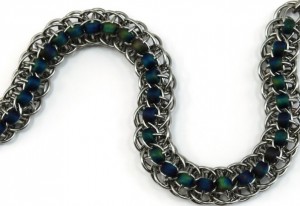 Preceding the signing, Rebeca piloted a new advanced project tutorial for her Beaded Fire Wyrm design (shown left).  Students (shown below) were challenged by the project but left with smiles on their faces as they learned to create this beautiful weave.  Rebeca will use her experience teaching the project to perfect the tutorial which will be released by B3 in the coming months.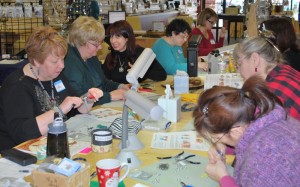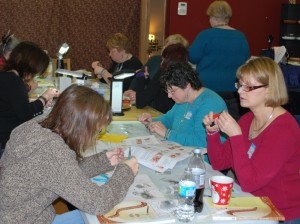 =====================================================================================

Not long after this very busy B3 day, Rebeca was boarding a plane to LA to attend the Craft & Hobby Association's Winter Conference and Trade Show where B3 was honored as an Innovative Retailer. Rebeca spent a couple days checking out the conference and trade show and even ran into some folks from home.  Lindsay Obermeyer, a fellow Chicago Craft Mafia member, had booth in the artist's Licensing and Design section and B3 designer & teacher and founder of Kali Butterfly, Vanessa Walilko was there as the winner of the CHA Fashion Fever contest this summer.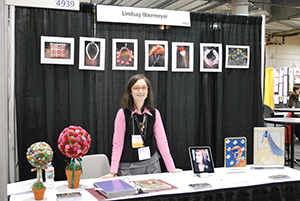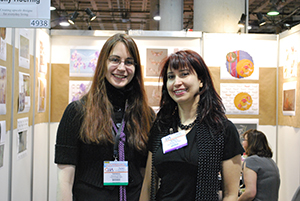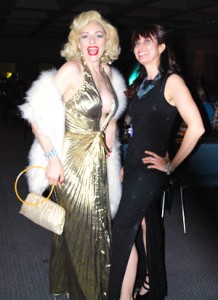 B3 was considered along with 4 other retailers for the top honor of 2011's Most Innovative Retailer at last night's Moonlight Mixer event and while we didn't win, Rebeca still had a great time rubbing elbows with some "celebs" at the event *grin*.
Now Rebeca is off to Arizona to teach a few classes and have another book-signing before she heads back here to snowy Chicago.  How did she manage to plan to be somewhere sunny while we're bracing for what could be the worst blizzard in Chicago's history?  Let's just chalk it up to chainmailler's intuition.


Want to take Rebeca's classes in Arizona?  Registration is still open.  Sign up today!