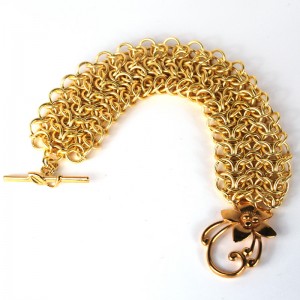 Kits are now available for chainmaille artist Vanessa Walilko's recently published project, Galdriel's Cuff (Elf Weave). Invented by Johnny Nilsson (known online as Nadrendion), Elf Weave is a dense, intricate pattern from the European family of weaves that it is incredibly fluid and has a lovely weight in enameled copper.  The floral clasp for this project makes a beautiful focal point and the perfect finishing touch.  (And yes, stay tuned because we will be selling the clasp in several different finishes—including gunmetal!—by the end of April.)



Learn more about Vanessa, the artist behind this kit, by visiting her website, liking her page on facebook, or following her on Twitter.
=========================================================================

Instructions for this project are available in the April/May 2011 Issue of Step-by-Step Wire Jewelry. 

However, weavers beware – the magazine lists the wrong size!  Use size H19 enameled copper to make this piece.

Did you know Blue Buddha has supply lists and precious/base metal conversions for more than three dozen magazine chainmaille project? Check out the page, and save yourself the time of doing the calculations yourself!  After that, use our Ringpicker page to get everything on your project shopping list.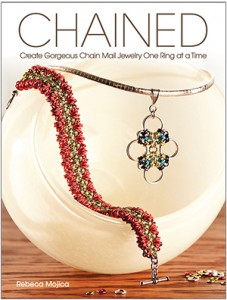 Also in this issue of Step-by-Step Wire Jewelry…check out Sara Richarson's review of Rebeca's book, CHAINED on page 62! Sara concludes, "If you've been resisting making chainmaille pieces, Chained will definitely convince you to break out of your shell and try it.  Go on, break out your pliers and make this beautiful jewelry!"