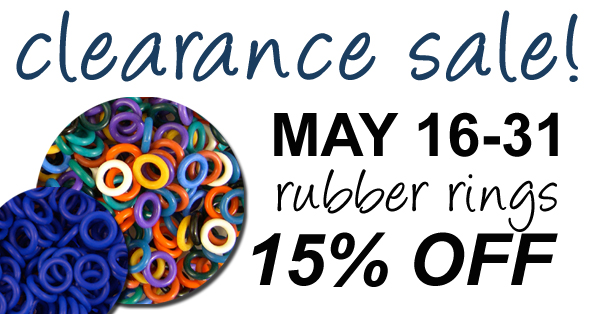 Reduced prices by 15% on our entire stock of Rubber Rings!
These special prices will be available until May 31st at which point we are discontinuing our current stock of rubber rings.

Why we are discontinuing these rings:
Due to changes in manufacturing we have been unable to provide our customers with the consistency you've come to expect.  We have decided to stop carrying this product for a while in hopes of ideally finding a U.S.A.-made alternative in a broad range of colors and sizes. We know how frustrating it is when a supply store stops carrying something you adore working with and are keeping our pliers crossed we will find a good solution.  We also know how frustrating it is when you receive a product you expect to be of a certain quality and it's not up to snuff which is why we think you'll understand this choice.  We only sell the best supplies and hope to in the future offer the best Rubber Rings in new and beautiful colors – we'll keep you posted!
Also note, we will soon stop carrying the Anodized Aluminum machine-cut rings (AAmc) and have reduced the price on those rings as well. We originally began vending these because they are used in the book Link It!.  However, with the book being discontinued and with our rubber ring discontinuation, we feel this is another product we could move out to make space for something new.  We will likely eventually add size H16 AA to regular production, as that was our most popular AAmc size.
Rest assured we are NOT selling any faulty Rubber Rings as part of this clearance sale.  All items on sale are of the quality you expect and have been quality controlled – we are simply reducing the price to clear our that stock and make room for other products.