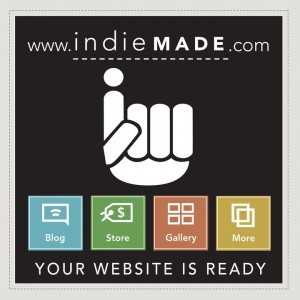 Last week, Rebeca and I got to meet the savvy lady behind what is sure to be a huge hit in the craft world – IndieMade.  A DIY-er herself, Jennifer Rapp Peterson started IndieMade with her husband just a couple years ago and has big plans for it in the future…and with good reason.  Jennifer noticed that a great website (complete with shopping cart system) was either too pricey or just too intimidating for most artists.  She received business card after business card with long lists of websites – Etsy, Flickr, Facebook, Twitter, etc. – but no personal url.  She saw the very real need for an easy solution to this website plight.
IndieMade follows in the footsteps of layman friendly website-building services like WordPress and Tumblr but focuses on the needs of the artist/crafter.  IndieMade's websites (which can be set up in as little as 30 minutes of you're prepared with your images and content!) are powered by a content management system (or CMS) called Drupal.  For those of who don't spend your free time learning about content management systems (*wink*), Drupal is an open source content management system with millions of developers behind it.  Basically, lots of smart folks are constantly working to program new modules or pieces that can be puzzled together into a website that works and looks great to your site's visitors and yet is about as easy as editing a facebook profile for the website owner (you) to update and manage.  Need an event calendar that you can update easily?  Drupal has a module for that and IndieMade has taken that module and placed it into a great looking template.  Need a shop you can easily manage?  They took care of that too.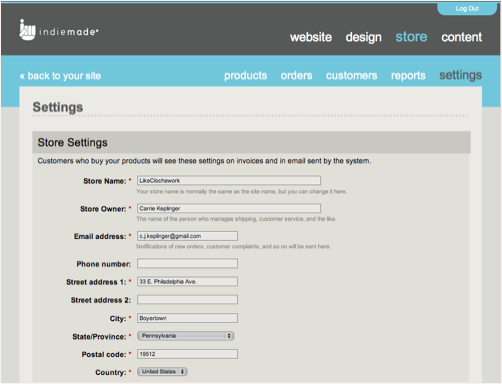 Setting up and maintaining an IndieMade site is incredibly user-friendly even for those of us that don't consider ourselves exactly tech-savvy.  There are also a ton of tutorials and resources on their website and there will surely be more to come in the future.  Also, because IndieMade uses Drupal, the pieces and parts they are using to build the website templates will only improve as time goes on.  They have a lot of bases covered already when it comes to the needs of the artist/crafter and have a bunch more features (like inventory management) on the horizon.  Right now they are offering two sleek and simple template designs for your website but we learned on Tuesday that they will be releasing more by the end of the summer.  Your website comes with modules for News/Press, a Blog, a Shop/Shopping Cart, and Event Calendar.  You also have the option of adding custom pages in the higher tiers of their monthly pricing.  There are also some back-end perks just for the website owner including a simple customer database and reporting tools.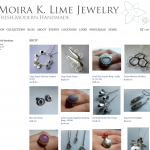 IndieMade sites run on a monthly fee which essentially covers the hosting of your website (basically, storing your website and the content, photos, videos, etc.) and the development that I mentioned above.  As someone who has some experience with creating websites, I think the monthly rates are a steal for what you're getting.  Plus, there is no activation fee and no contract so the you can get started right away and pay month to month.  Kiss the roadblock of needing a couple grand (or more) to spend on getting a website up goodbye.  Not to mention the fact that they are currently offering a 30-day free trial so you could literally get your site up for nothing!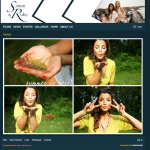 It is likely we will begin tinkering with an IndieMade site or two in the near future and will keep you updated about how it goes.  In the meantime, check out the sites to the left – both made using IndieMade.  We also highly recommend that you check out IndieMade's website for more information and let us know if you make your site using IndieMade.