You may have noticed that the logo in the upper left-hand corner of our website is looking a little extra "festive" today – that's because it's Blue Buddha's 9th Birthday!  We are so excited to be celebrating 9 years.  We've come such a long way in that short time – growing from Rebeca working out of her spare bedroom to fill her handful of weekly orders to a team of 13 employees, supplying people in all 50 states and 40 countries with our top-quality chainmaille jewelry supplies.  Here's a big thanks to B3's customers, supporters, mentors, designers and employees for getting us this far and here's to many, many, more!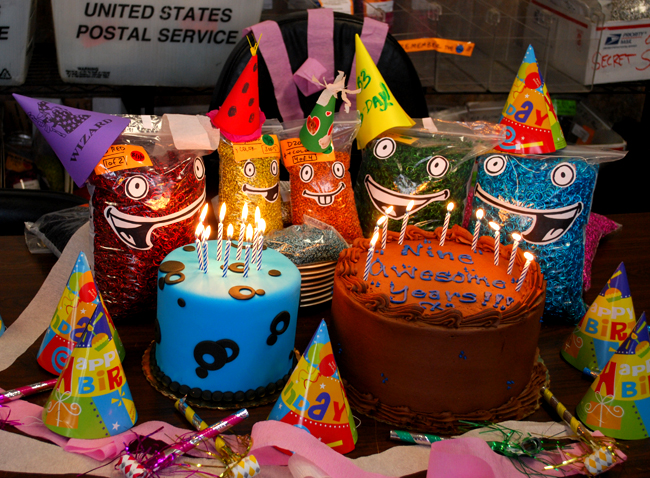 Our jump rings surprised us with a party – complete with noisemakers, party hats and of course, cake!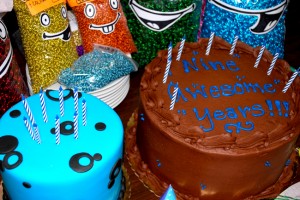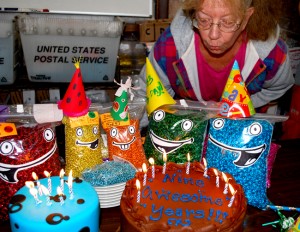 A close up of our cakes (left) and Rebeca's mom, Rita stands in for Rebeca (who is out at a leadership retreat this week) to blow out the candles (right).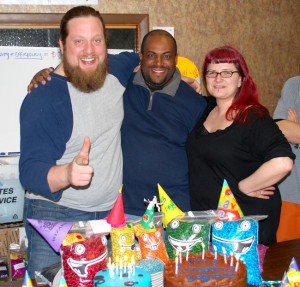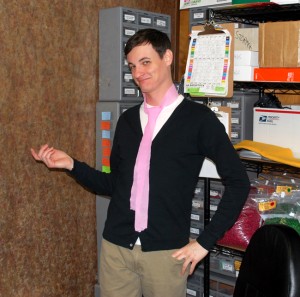 Some of our team members mugging for the camera – from left: Max, Erik, Nadja & Jason (making a fashion statement with our decorations!)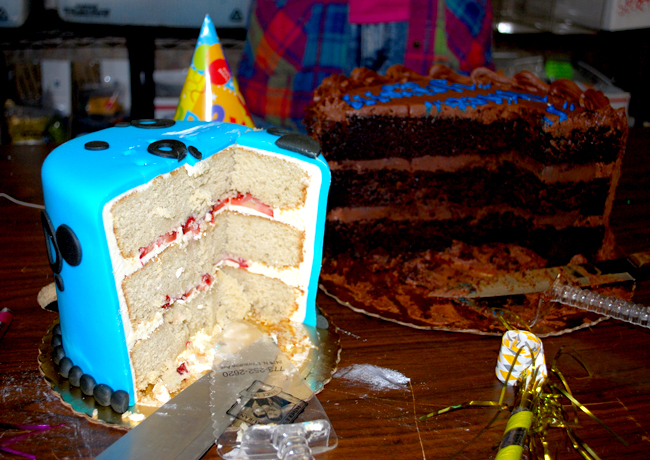 Nom Nom Nom!  We love cake – a vanilla cake with strawberries (left) and a chocolate, chocolate, chocolate cake (right) – our jump rings know us so well!
---
We also wanted to share some very sweet birthday wishes we received from our community members on Facebook.  Thanks for all your kind words – we love you right back!

Happy Birthday to the biggest and best Chainmaille supplier

– Tammy R.

Happy Birthday, and here's to many more! Thanks for helping making all my ring-crazy dreams come true! – Jo H.
Happy birthday, B3! At the rate you're growing, world domination won't take as long as we all first thought. Hope y'all find a bigger home soon and we can play during open studio again. – Lisa S.
Happy Birthday, and congratulations! I remember taking some of Rebeca's early classes at Caravan, and am so proud of all the wonderful changes over the years. Here's to many more birthdays! – Sharon B.D.
Happy creative dream to permanent reality day! – Melissa L.
Happy birthday to the greatest business that supports my addiction to chain maille!

– Audra P.
Happy birthday, B3! So glad you are there to inspire (and supply!) us chainmaille fanatics. ♥ – Meridy M.
Happy Happy Birthday! I hope there are 100 more!!! – Meta G.
Happy Birthday B3, may your pliers stay strong and your reign be long! – Deni C.