It's that time again – we are looking for Bead&Button Show helpers to support B3 in many different ways at the show in June.  The show is always a lot of work and a lot of fun (check out some pictures from previous years for proof that we know how to have a good time!)  If you love chainmaille and Blue Buddha Boutique – this is for you!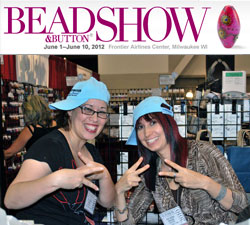 Show Dates:
Wednesday June 6 – load in, set up and Meet the Teachers
Thursday June 7 – set up & show (shopping preview)
Friday June 8 – very long show day!
Saturday June 8 – show
Sunday June 10 – show & tear-down
Number of Positions available: 4-8
There is some overlap, so it's possible for someone to be both a booth helper and a Make and Take Leader, for example. Preference will be given to folks who can work multiple days, but we'll consider single-day helpers as well (particularly for the setup/teardown positions).
Deadline to Apply:
April 20 (but sooner is better, as we'll be filling each position as soon as we find the perfect people, and we'll begin booth customer-service training in April)
Visit our jobs listing page for complete information about what these positions entails and how to apply.
---