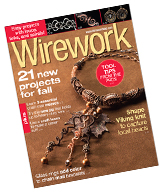 Pick up the latest issue of Wirework magazine to find instructions for two projects by B3 Designers Rebeca Mojica and Kat Wisniewski.  You can purchase Wirework Fall 2012 right here on our website.
Read more about these projects below including important notes about errors in the magazine!  Also, make sure to bookmark our Magazine Project Supplies page – we'll be updating it soon with these projects and many more!

---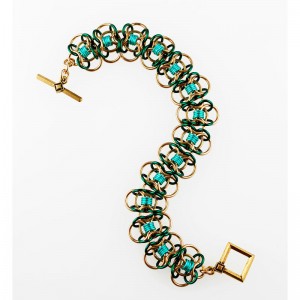 "Coiled Butterfly" by Rebeca Mojica
Flip to page 24 to find instructions for Rebeca's project.  Kits for "Coiled Butterfly" are also now available.  If you're shopping for rings à la carte or gathering supplies from your own stash at home, please note that the mm conversions listed next to the 18ga rings in the magazine are incorrect.  The measurements listed are in AWG (1.0mm) but they should be in SWG (1.2mm).
Also note that the first ring size listed in the materials list ("A rings" which are the clasp rings) should be 18ga 1/8″ (3.2mm) – our size D18, not the size listed which would be our size G18.
---
"Coiled Butterfly" also scales up really nicely – check out the weave diagram below to make a larger version using base metal and anodized aluminum jump rings.
Ring Sizes Used:
K16 = 16ga SWG 15/64″ (6.0 mm)
V16 = 16ga SWG 13/32″ (10.3 mm)
L16 = 16ga SWG 1/4″ (6.4 mm)
S16 = 16ga SWG 23/64″ (9.1 mm)
F18 = 18ga SWG 5/32″ (4.0 mm)
Clasp rings = G16 16ga SWG 11/64″ (4.4 mm)
Ring Counts – per inch (and for 7.5″ of material)
K16 = 1.5 rpi (12)
V16 = 1.5 rpi (12)
L16 = 6 rpi (48)
S16 = 3 rpi (24)
F18 = 6 rpi (48)
---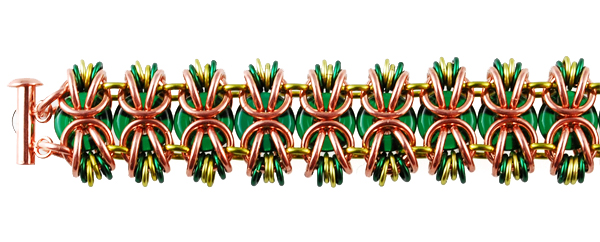 Also in this issue is Kat's project "Duplicate Duets" which we will be featuring as our "Maillers' Choice" kit in September!  Again, it is important to note that the mm conversions listed for the 18ga rings in this project are AWG (1.0mm) but should be SWG (1.2mm).  Also note that ring counts listed are for 7″ of material.
---