We look forward to the DIY Trunk Show here in Chicago every single year.  It has always been one of our very favorite shows and we have loved watching it grow over the years (see the picture of Rebeca below at the 2005 show!)  There is so much about the show that we feel strongly about–supporting local crafters, respecting crafts and arts on an equal plane, giving customers a really fun experience and working hard out of love and passion for making.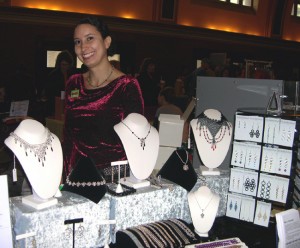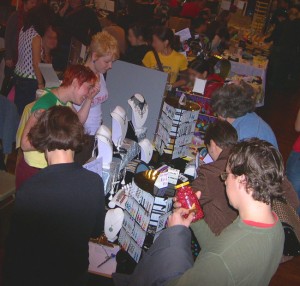 Over the years, we have also become close friends with the show founders, Amy Carlton and Cinnamon Cooper.  Rebeca served as a member of the Chicago Craft Mafia with them for years and they have always been huge advocates for Blue Buddha and Rebeca Mojica Jewelry.  They embody the passionate crafty spirit that we love so much and we have been inspired by the blood, sweat and tears they have poured into the DIY Trunk Show for the past 10 years.  This inspiration has lead us to be the show's top sponsor for the past two years.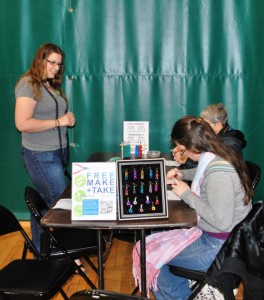 It's for all these reasons that, when we learned they were considering stepping away from the show and actually, the show might even come to an end, we felt a stirring.  We thought long and hard about it and had some really candid discussions with Amy and Cinnamon over coffee and spreadsheets and cookies.  After all the thinking and talking we made a decision: Blue Buddha Boutique would take over the DIY Trunk Show and give it a push into its next decade.
Taking on this show is daunting in many ways, but it's also incredibly exciting.  Cinnamon and Amy have created something whole and functional and frankly, badass, and we really get to hit the ground running.  They have already fielded our many questions with grace and have committed to continuing to do so as we learn the ropes.  It's a business decision for both parties, but it feels a whole lot more like we're taking on the care of their craft baby.  There's a lot of nerves but also alot of love and excitement!  You can read their side of the story on the Chicago Craft Mafia website.
So what does all this really mean?  We thought you might ask.  Visit the DIY Trunk Show website for the official press release as well as a Q&A that addresses questions we expect to come up.  Should you have additional questions, we will be holding a Town Hall meeting on May 9th from 6-7:30pm right here at B3.  If you can't make the meeting, you can check out the a live stream of the it on the DIY Trunk Show website, or watch it later (it will be available through the end of May.)  You can also feel free to send us an email with [email protected] with questions, thoughts or comments.
We can't wait to take on the project and look forward to sharing our experiences with you leading up to the show in November!