For the last two years, we've held a special "Show Off Your Maille" week in October to celebrate the creativity of maillers in our community and raise awareness for our craft which, let's face it, can still sometimes garner a strange look or raised eyebrow from folks not in the know. Each day this week, we'll share pictures of the jewelry our team is sporting and we invite you to show off your pieces by posting them to our page on Facebook or sending them to us in an email at [email protected].
Come on, be a show off!
---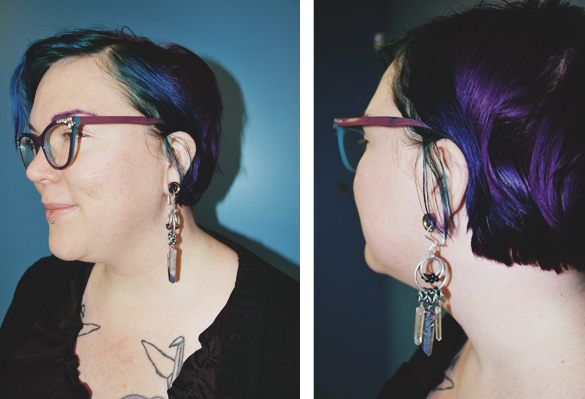 April is our Full-Spectrum Filler & Inspectionista – she helps process and fill orders so they get to your mailbox quickly and accurately.  April is a multi-talented artist who creates paper crafts as well as statement jewelry and is a part of our new Artisan Market.

---

These wrists belong to (from left to right) Darlene – Order Filler, Matt – Inventory Knight & Ring Sorting Specialist and Jason – Electic Wizard.  Each of these team members play an integral roll in making sure we're in stock and orders are completed quickly so you can get weaving.  They also run the gamut when it comes to chainmaille experience from Darlene, an expert in the field, to Jason and Matt who we frequently see tinkering and learning away during our weekly employee mailling time "Weaving Wednesdays".  Just goes to show you can't work here long without getting sucked in!
---


Last but not least, we had some necklace twins today (well, almost.) Rebeca and our General Manager, Nadja, each wore their own versions of our Tapered Mobius necklace today, of course in our unofficial uniform colors of black and red *wink*.
---