One of the best things about chainmaille is the wide variety of metals you can weave with. Often, when maillers are looking for colored rings, they reach for the AA – but we like to switch it up a bit!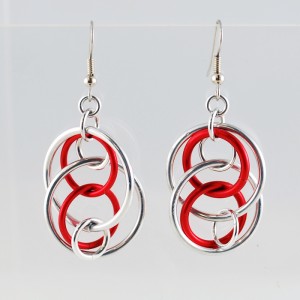 We recently started carrying a new size of enameled copper jump rings that are the size equivalent to our CC14 base metal rings. During our weekly employee mailling time, Weaving Wednesdays, B3 team member Jen made an enameled copper version of one of our favorite earring designs, Illusion Loops. (You can download the free PDF instructions for Illusion Loops Earrings here.)
Each metal has its pros and cons, but enameled copper rings are some of the brightest and most colorful you'll find. We love 'em! Just note that enameled copper is quite soft, so these rings work best doubled or in dense weaves with little chance of a ring getting caught on something and pulled open.
We have just have a few colors of these rings right now, but will be introducing more soon. Tell us in the comments or email us at [email protected]: What colors of enameled copper would you like us to carry in this size? 
Happy weaving!