Sept. 13, 2014 — UPDATE:  We are happy to announce that Loren has been able to reschedule his Wire Knot Intensive weekend for November 8-9, 2014! Sign up for this incredible opportunity to learn from a master. Read more about the classes below.
————————————————————————————————————————————
We are thrilled to be hosting Master Teacher Loren Damewood at B3 in Chicago in just a few weeks! August 16 and 17 [Now scheduled for November 8-9, 2014], Loren will demonstrate how to tie fine silver into knots with this exciting intensive. Students will receive one-on-one instruction in an intimate setting — an incredible opportunity to learn this unique form of jewelry-making!
Sign up for the whole weekend or select from one of the three classes detailed below. Seating is extremely limited! Register today to secure your spot.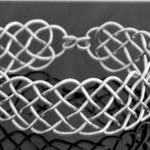 Prolong Knot Bracelet
10 am, Saturday, November 8
This hands-on one-day workshop will introduce the student to the principles of tying complex two-dimensional knots in precious wire, specifically addressing the Prolong Knot, or Ocean Plat, made into a bracelet. Examples will be provided, as well as discussion and demonstration of the use of this knot in several applications.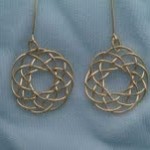 Turk's Head Mat / 5 x 9 Earrings
10 am, Sunday, November 9
This deceptively simple-seeming pattern is tricky to implement but elegant when mastered. Five turns of wire, with nine loops around the edge, it leads the eye on a path that seems never-ending. Blink, and it becomes a daisy. Blink again, a star appears in the center.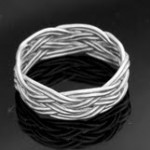 Turk's Head Ring
3 pm, Sunday, November 9
Building on the skills introduced in the first session, but in three dimensions, specifically addressing the Turk's Head Knot, made into a ring. There will be examples and discussion of the use of this knot in several other applications, with demonstrations as time permits. Ring sizing will be covered, and a ring-making fixture capable of producing multiple sizes is provided.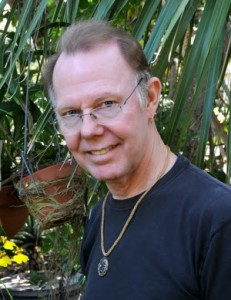 About the Teacher
Loren Damewood has been creating intricate decorative knots in precious metal for over 25 years. He recently retired from a career in the aerospace industry to teach workshops on his methods full time. He taught himself the techniques he uses, by trial and error, and delights in helping others to bypass the painful and tedious stages and go right to the shiny stuff.