Go big or go home with these massive rings!
These are the thickest anodized aluminum jump rings we sell, and they are all saw-cut. Like all our rings, even the cuts are anodized, so you can create beautifully smooth and seamless closures. These rings are 100% made in the USA.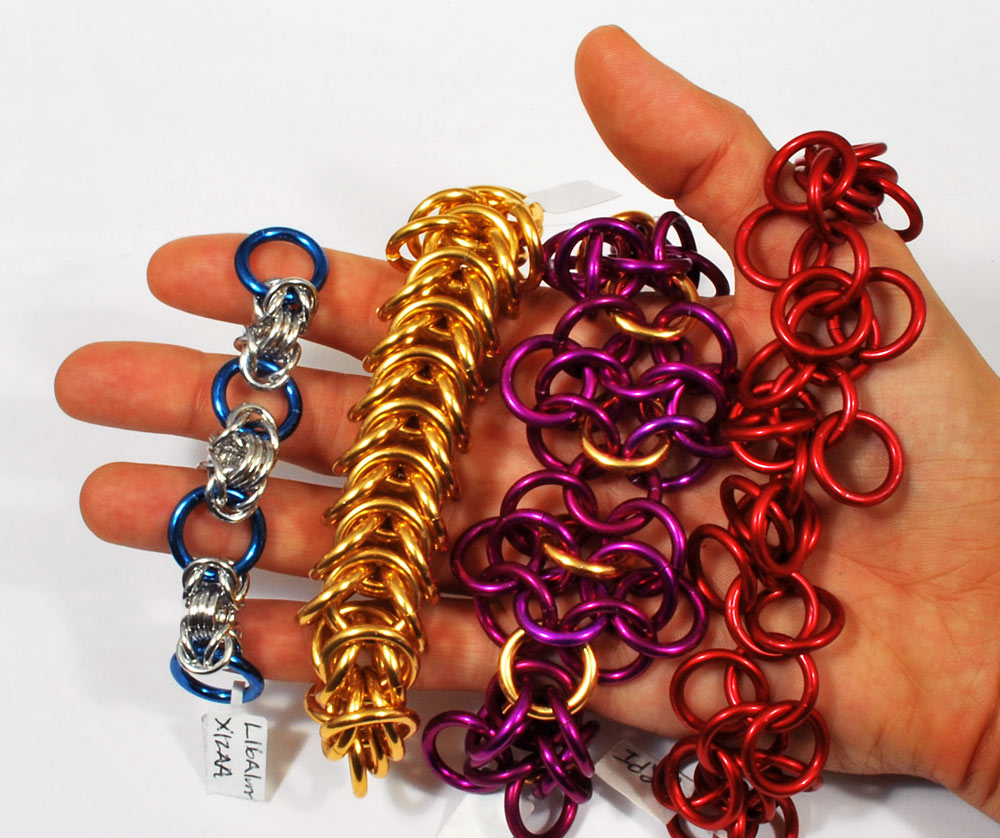 Size X12 = 12 SWG ( 2.6 mm) 7/16″ (11.1 mm)
AR = 4.5
Looking for ideas on what to do with these rings?

Check out our earlier blog post with ring counts and weave samples for 6 projects using X12 anodized aluminum jump rings.
Additional project ideas:
The Knot Earrings below are best-sellers for Rebeca. Her most popular color combinations include:
A. aluminum, gold anodized aluminum, brown
B. violet, purple, pink
C. turquoise, lime, yellow
D. aluminum, iridescent gunmetal, black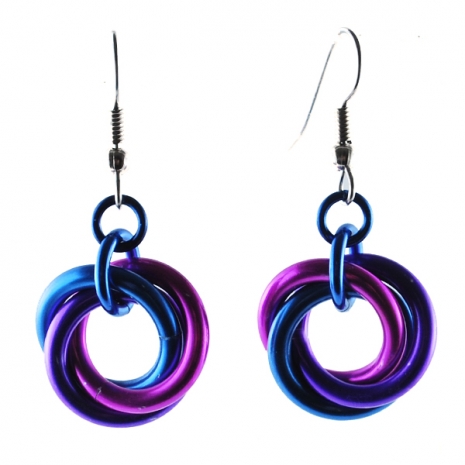 The 3 X12 rings are joined to the earwire with an L16 and and an F18 jump ring.
L16 = 16 SWG (1.6 mm) 1/4″ (6.4 mm)
F18 = 18 SWG (1.2 mm) 5/32″ (4.0 mm)
If you're unsure how to make these, check out our free Flowers Weave Tutorial or our Forward and Backward Möbiusing techniques tip sheet.
Read our blog to learn how to make an easy pair of earrings using Rebeca's signature coiled technique: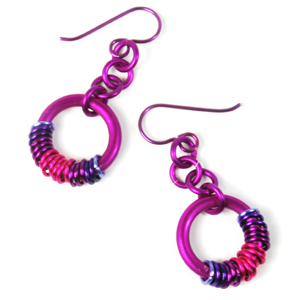 More jewelry pieces Rebeca has made with these huge rings:
For a simple necklace, combine X12 jump rings with scales to create the Arrowhead Necklace. Other jump rings used in this piece are size G16 (doubled plain aluminum "connector" rings – connecting the L16 and X12 rings) and L16 (doubled plain aluminum rings in between the X12 rings as well as doubled anodized aluminum rings attached to the scales).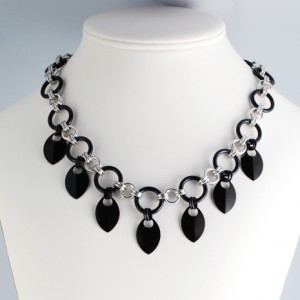 G16 = 16 SWG (1.6 mm) 11/64″ (4.4 mm)
L16 = 16 SWG (1.6 mm) 1/4″ (6.4 mm)
Mystical Waterfall – this statement necklace uses 325 anodized aluminum jump rings in size X12!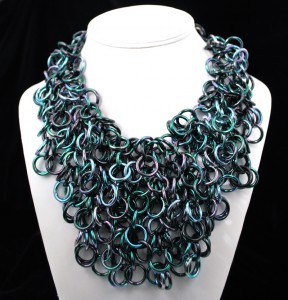 The Bibbed Fringe is another best-seller: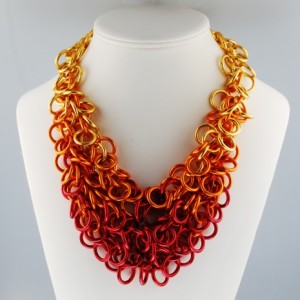 The Bibbed Fringe (as well as the basic Fringe necklace) are included in the Shaggy Loops Variations Video, along with supply lists:

These rings fight back – we recommend using our duck-bill pliers coated with Tool Magic for the best leverage.
Did you make something amazing with our size X12 rings? Post it to Instagram or Tumblr and tag #bluebuddhaboutique