Five Million Anodized Aluminum Rings Plus Additional Base Metal Rings, Findings and HyperLynks Kits To Be Restocked!
We've started our final production run! We're in the process of having 5 million jump rings sent to our Anodizer. We've also tallied up our other base metal rings and findings needs and will be tackling those. We expect to have everything that we are restocking available around the end of February or early March. Our HyperLynks kits should be here by mid-February.
Anodized Aluminum Details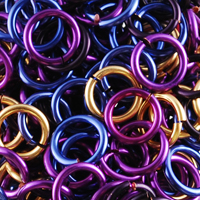 We will NOT be restocking any of our color mixes. As the color mixes run out, they are gone for good. (If you have a backorder of a mix, we WILL definitely fill those; we're just not making any additional mixes). We'll publish a blog post soon with our "recipes" for our anodized mixes so that you can purchase solid color packs to make your own mixes.
Below is a complete list of the sizes, colors and quantities in our final production run. Because the batches are anodized by weight, you'll notice there are far fewer rings being anodized in the thicker gauges. If you see that a ring you want is limited, be sure to sign up of for back-in-stock notifications on our anodized aluminum jump rings page so you can snag what you need when we mark it back in stock! If you don't see a color listed below, then it likely means you can buy those rings now because we have enough in stock, but once that stock runs out, that color will be gone forever. We will also not be anodizing any more of our faux gold specialty sizes (we will only anodize the standard sizes listed below), so whatever is left on our faux gold page is it for this product line!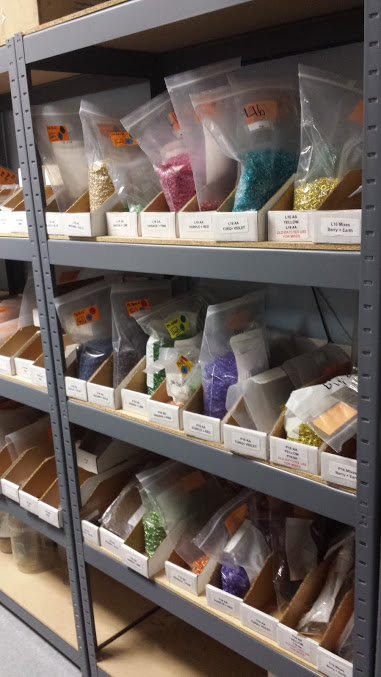 D20 – 20 AWG (0.8 mm) 1/8″ (3.2 mm)
120,000 rings per color:
* black
* gold
* iridescent gunmetal
* pink
F20 – 20 AWG (0.8 mm) 5/32″ (4.0 mm)
100,000 rings per color:
* black
* green
* iridescent gunmetal
* lime
* red
* turquoise
* violet
F18 – 18 SWG (1.2 mm) 5/32″ (4.0 mm)
40,000 rings (*) or 88,000 rings (**)
** black
** blue
** brown
** gold
* green
** iridescent gunmetal
* lime
** orange
** pink
** purple
** red
** turquoise
** violet
H18 – 18 SWG (1.2 mm) 3/16″ (4.8 mm)
75,000 rings each color
* black
* blue
* brown
* gold
* green
* iridescent gunmetal
* lime
* orange
* pink
* purple
* red
* turquoise
* violet
H16 – 16 SWG (1.6 mm) 3/16″ (4.8 mm)
20,000 rings each color
* gold
* iridescent gunmetal
* purple
* red
* violet
L18 – 18 SWG (1.2 mm) 3/16″ (4.8 mm)
58,000 rings each color
* black
* blue
* brown
* gold
* green
* iridescent gunmetal
* lime
* orange
* pink
* purple
* red
* turquoise
* violet
L16 – 16 SWG (1.6 mm) 3/16″ (4.8 mm)
16,000 rings(*) or 33,000 rings (**)
** black
** blue
** brown
* gold
** green
** iridescent gunmetal
* lime
* pink
** purple
** red
** turquoise
* violet
P16 – 16 SWG (1.6 mm) 5/16″ (7.9 mm)
27,000 rings
* gold
* iridescent gunmetal
* lime
* pink
* purple
* turquoise
T16 – 16 SWG (1.6 mm) 5/16″ (7.9 mm)
11,000 rings each color
* black
* blue
* brown
* gold
* green
* iridescent gunmetal
* lime
* orange
* pink
* purple
* red
* turquoise
* violet
* yellow
T14 – 14 SWG (2.0 mm) 3/8″ (9.5 mm)
7,000 rings each color
* pink
* turquoise
* violet
X12 – 12 SWG (2.6 mm) 7/16″ (11.1 mm)
3,000 rings each color
* gold