Browse Chainmaille Patterns For Sale, For Free Download, Or Just For Eye-Candy & Inspiration!
I've started resurrecting the Designs section of BlueBuddhaBoutique.com to showcase all the classic Blue Buddha patterns developed by myself, our guest designers and our amazing chainmaille team over the years.
If a PD

F tutorial for a particular pattern is available for sale, the end of the description will include a link to purchase in the Blue Buddha Etsy shop. And, as before, most of the patterns in the "Introductory" section are available for free download, woo-hoo!
There are still a couple dozen more patterns to add, so if you're looking for something that's not there, check back in a few weeks/months.
I've started reaching out to guest designers whose projects have been repeatedly requested by customers to negotiate new contracts with them (since their old contract was with Blue Buddha the corporation, not Blue Buddha the sole proprietor, heh). Trinity is already available; Dragon's Eye and Mngwa should be following soon!
In the meantime, there's plenty of eye candy to check out in the Chanmaille Patterns area of the Designs section: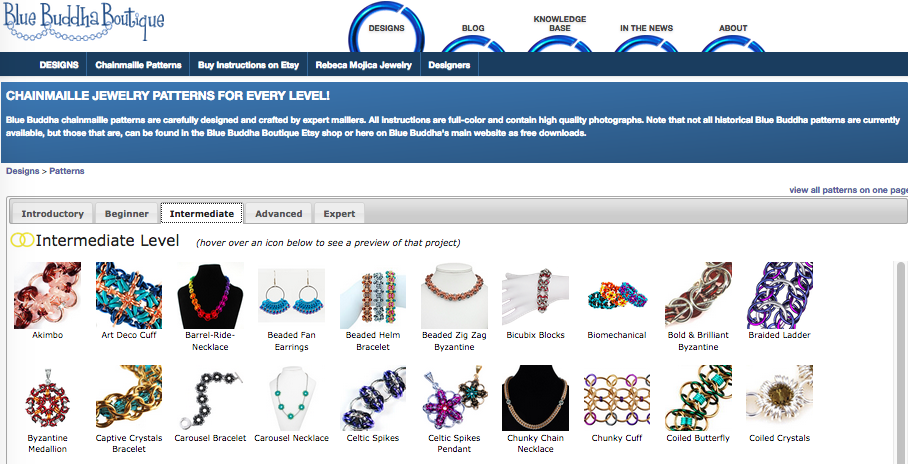 You can click the tabs within the section to scroll through the projects in the various levels, or you can look at everything at once by clicking the "view all patterns on one page" link near the top right.
Additional Updates
In case you missed the announcement in last month's newsletter, I've also added the old Stats and Uses page for base metal jump rings to the "Knowledge Base" section.  (It's not pretty, but it's there, heh. I know many of you missed this page … so, enjoy!)
There's still lots of work to do and probably plenty of broken links to fix. If you have comments or suggestions on what you'd like to see next, please leave a comment below or email me [email protected]; I can adjust my priority list based on your suggestions!