This Lamp Converts From Floor-Standing To A Table Lamp And Is Perfect For Jewelry-Making, Crafts, Circuit Board Work and Other Hobbies
Disclosure: I received a free product in exchange for my honest review. All thoughts and opinions expressed are my own. Some of the links in this post are affiliate links, meaning, at no cost to you, I may earn a commission if you click through and make a purchase. It helps me create content like this for you, and I thank you for your support.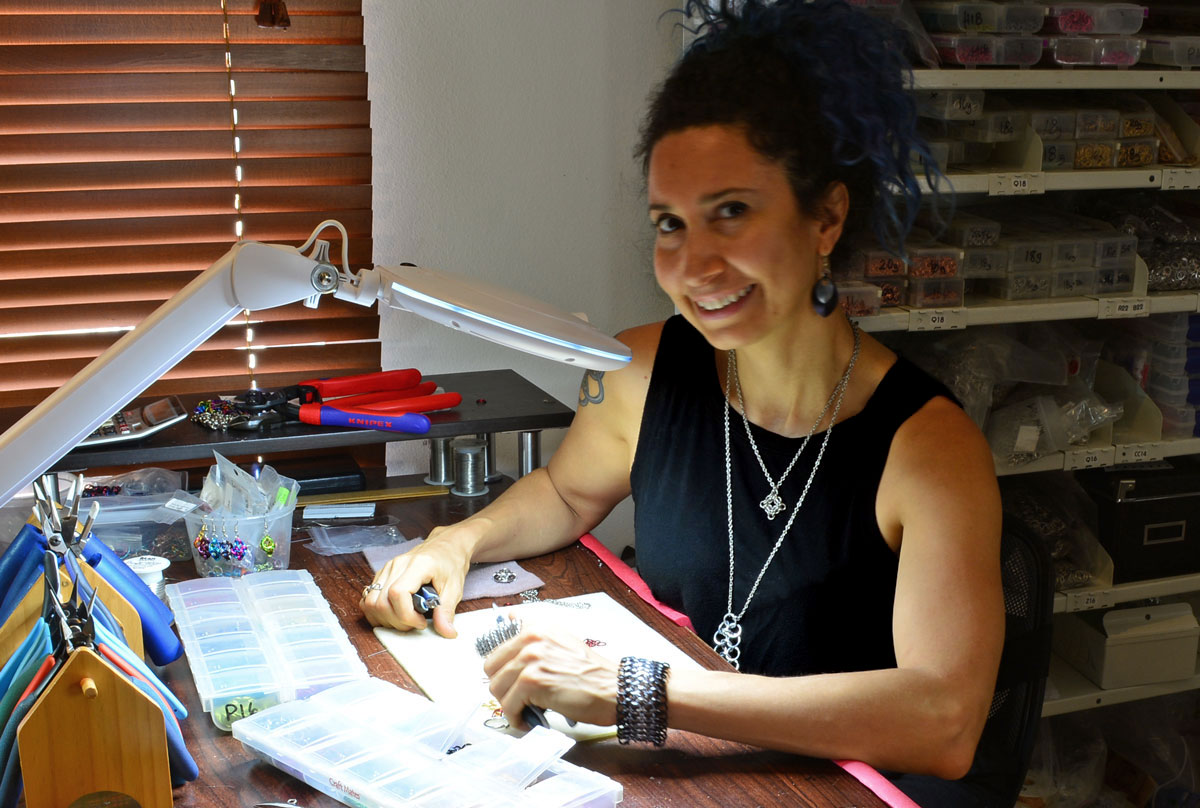 If you've seen my videos or blog posts about protecting and strengthening your eyes, you know how serious I am about this subject. In addition to eye exercises, good lighting is my top recommendation for preserving your eyesight if you do detailed handiwork like jewelry-making or crafts.
Therefore, I jumped at the chance to test out the LightView XL 2-in-1 magnifier lamp by Brightech.
Assembly is very intuitive. Without glancing at the instructions (because I'm stubborn like that), I put the lamp together in under 2 minutes. The base is substantially weighty – it's about 11.5 lbs. This is to be expected as it needs to act as a counter balance when the upper arm is fully extended.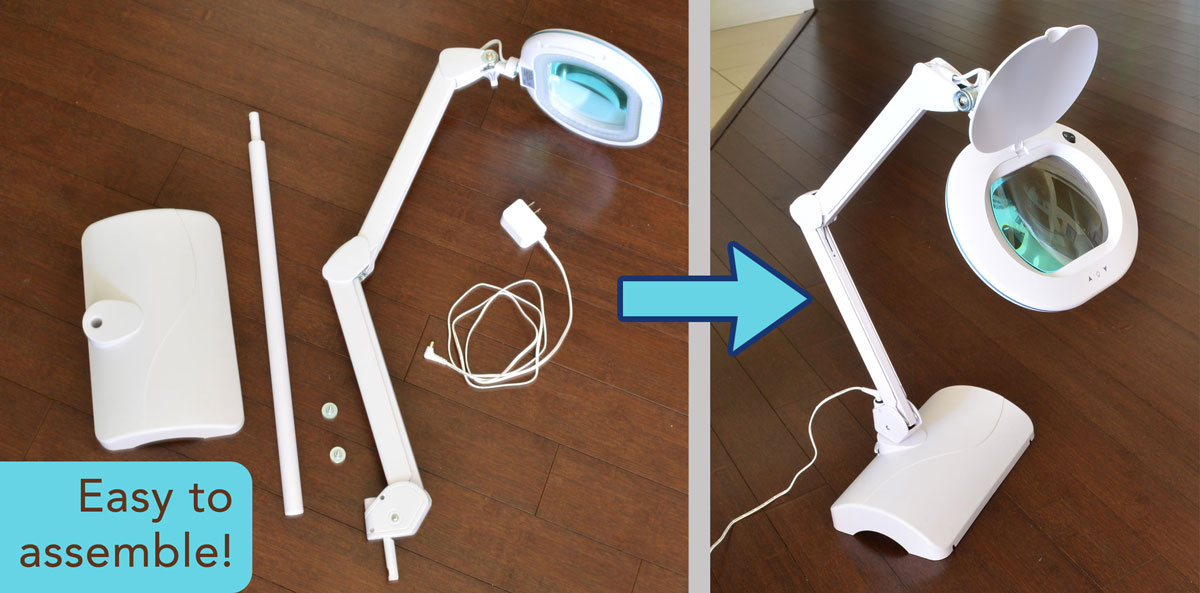 One of the nifty things about this lamp is that it converts from a floor to a table lamp. I wanted to test the table function first, so I assembled it without the long rod (shown at the right of the base in the photo above left).
I decided to do a little bit of chainmaille work at the main table—aka dining room table, aka shipping station aka every-surface-in-my-home-is-a-crafting-area. 😉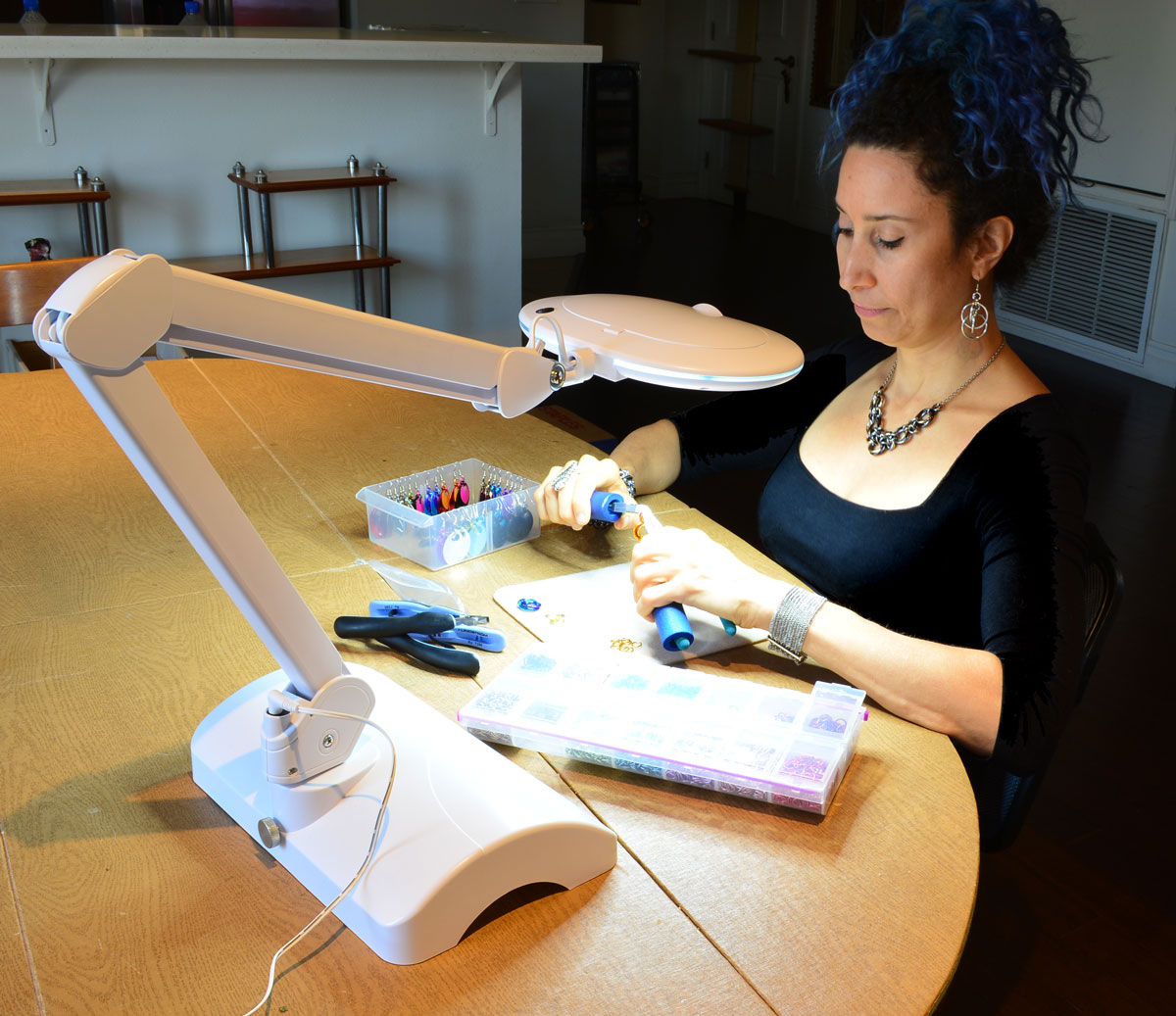 Immediately I noticed that the light was much brighter than my old craft lamp. No surprise, as there are many miniature LED lights in this lamp:
According to the manufacturer, the Lightview XL 2-in-1 is energy saving and draws on just 9 watts to generate 900 lumens, equal to a 65W incandescent bulb. The lights are made to last up to 100,000 hours.
*does quick calculations*
OK, given my average weekly weaving time, this lamp should last, oh, until I'm more than 130 years old … all good!
One of my favorite things about working under this lamp is that the lights don't get hot. During the long Southern California summers, it can get uncomfortable working under a traditional task lamp-even ones that generate just a bit of heat. My hands usually get sweaty, making it difficult to weave efficiently. With this lamp, I noticed no heat at all while working. (If I put my hands directly on the underside of the lamp, it felt warm … but obviously I do my work a few inches below the lamp, where there's no noticeable difference in air temperature with this lamp.)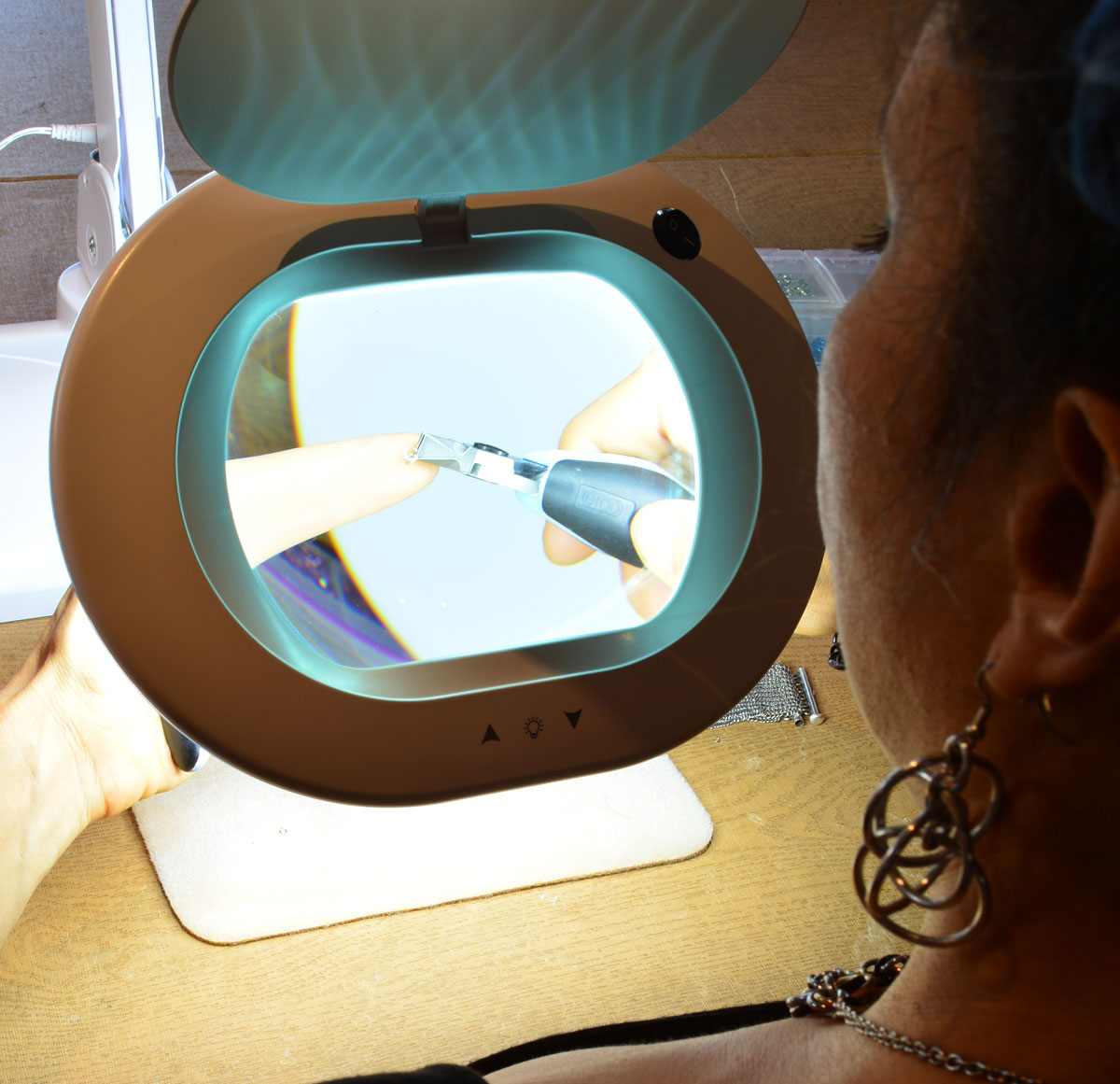 I am fortunate enough to have excellent vision and I don't often work with tiny jump rings, so I likely won't have a need for the magnifier portion very often. However, I did have to do a repair on my micromaille cuff, so I decided to test out the magnifier.
I had a different magnifier lamp many years ago, and didn't care for it because the magnifier portion was a teeny circle, surrounded by a much wider circle that housed a fluorescent light. I often felt as though the field of view was too small and the light itself was bulky. This certainly is not the case with the Brightech magnifier. The 6″ wide by 4.5″ long viewing area is billed as the "widest viewer of any magnifier lamp on the market" yet the surrounding border is small, so it didn't feel like there was something "in the way" as I worked. The view was clear as can be. (The photo below shows me working with 1/16″ inner diameter jump rings.)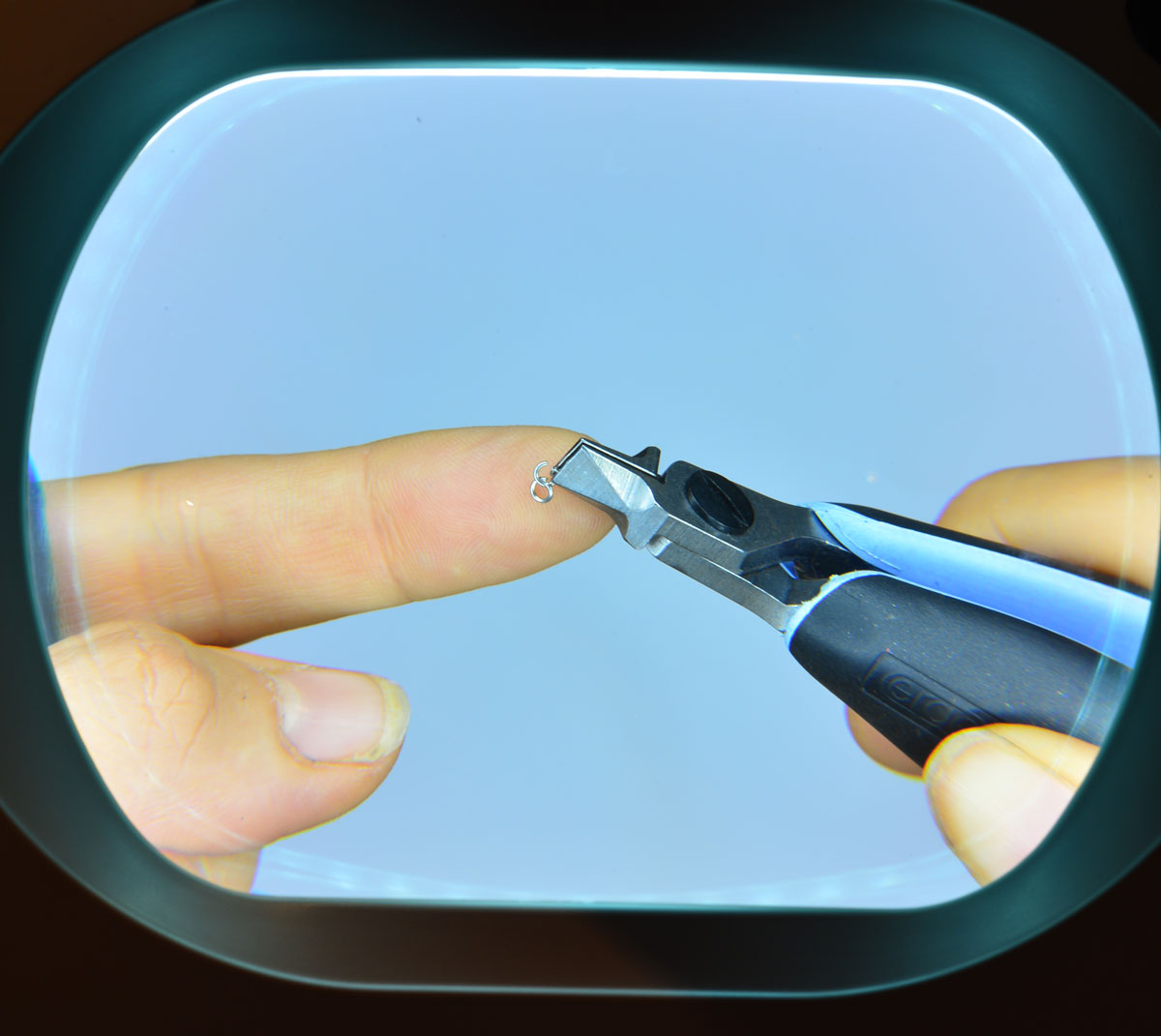 In all honesty, though, I probably won't often use the magnifier. I've always found it a bit disorienting to transition back to "normal viewing mode" after having peered through a magnifier for an extended period of time. I'll just take advantage of my good vision for as long as I can, and then when I really do need the magnifier, it'll be there for me.
Another feature I was excited about was the ability to use this as a floor lamp. Chainmaillers can often be found weaving in front of the TV, so I had to try setting up in the living room.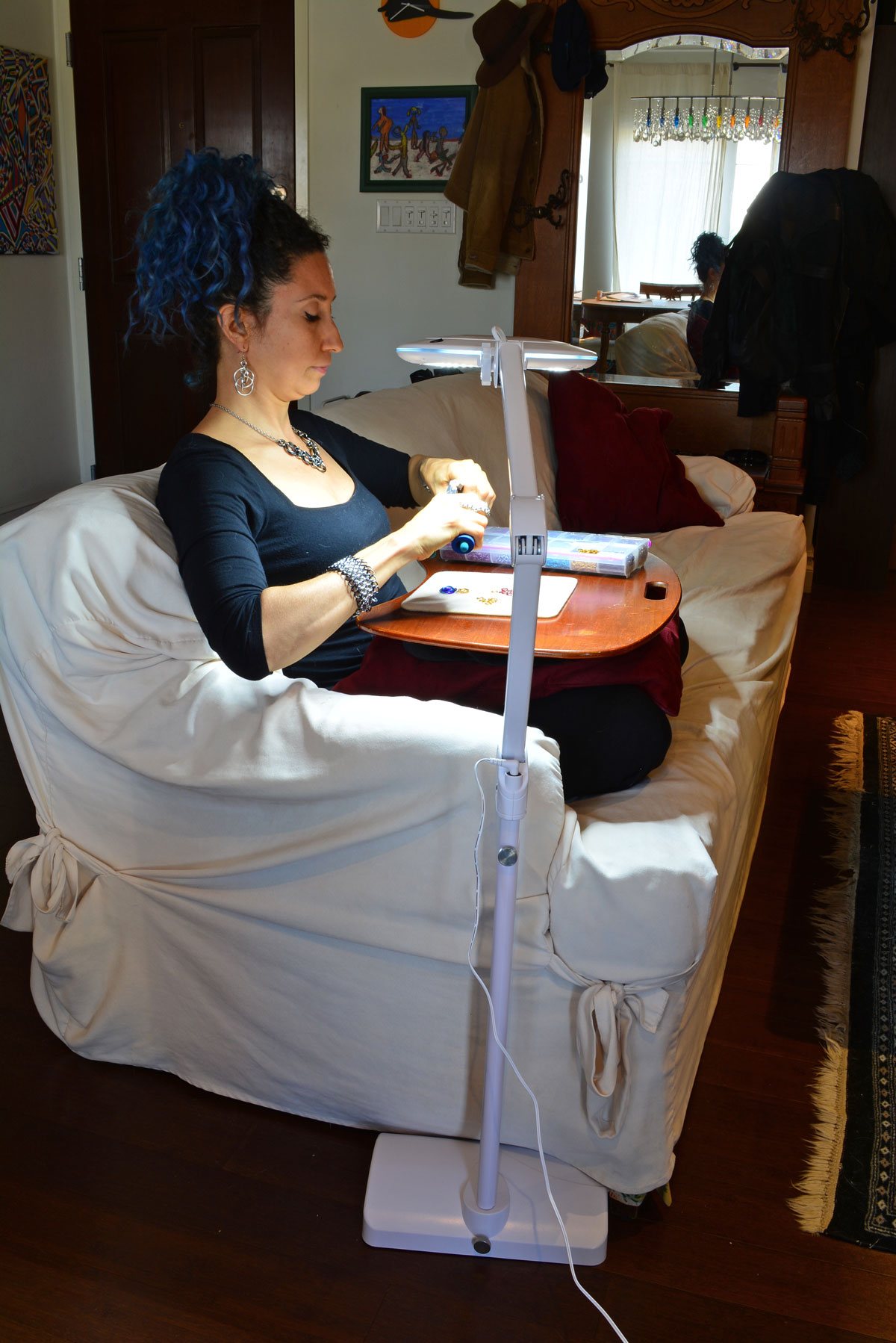 It was quite easy to loosen and release the arm of the lamp, add the floor pole and then reattach the arm. There are thin floor pads at the base of the lamp, but if you are going to use this on a sensitive floor, I'd recommend adding additional furniture pads. (I tend to go overboard on protecting my floors after having lived in a place with floors that seemed to get scratched if you just breathed too hard!)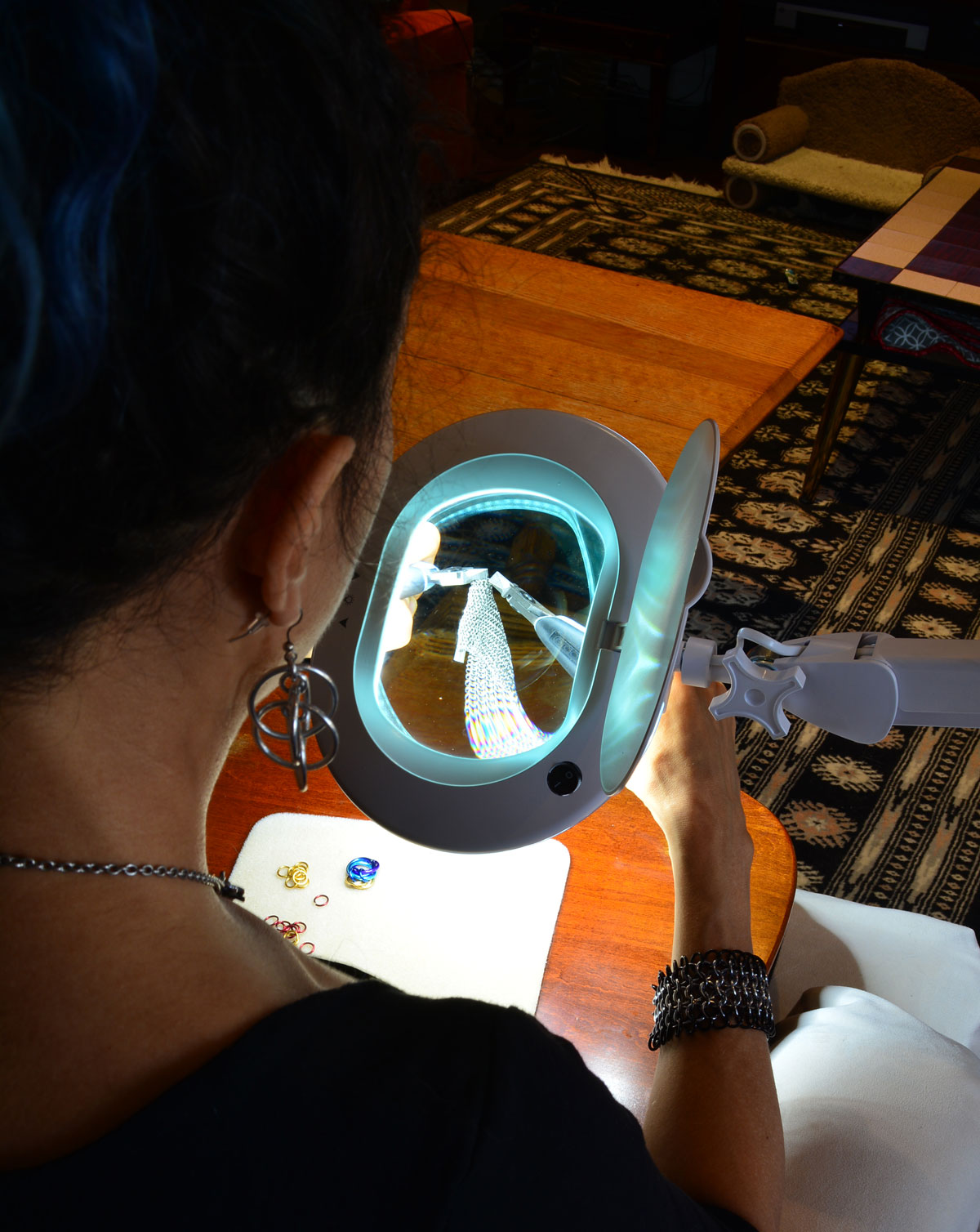 It surprised me how easy the arm was to control. It extends with ease and somehow locks into place wherever you place it. There's a knob just below the light which allows you to angle the light and magnifier how you wish.
The cord is 5 feet long, fairly standard for a crafting lamp. Note that the plug connects to the lamp at the bottom of the arm, NOT at the base. This means that if you're using the floor lamp configuration, the cord plugs in near the middle of the lamp, making its reach essentially 2 feet shorter. This isn't an issue at my normal work table below, but for working in the living room I needed to use an extension cord to reach an outlet.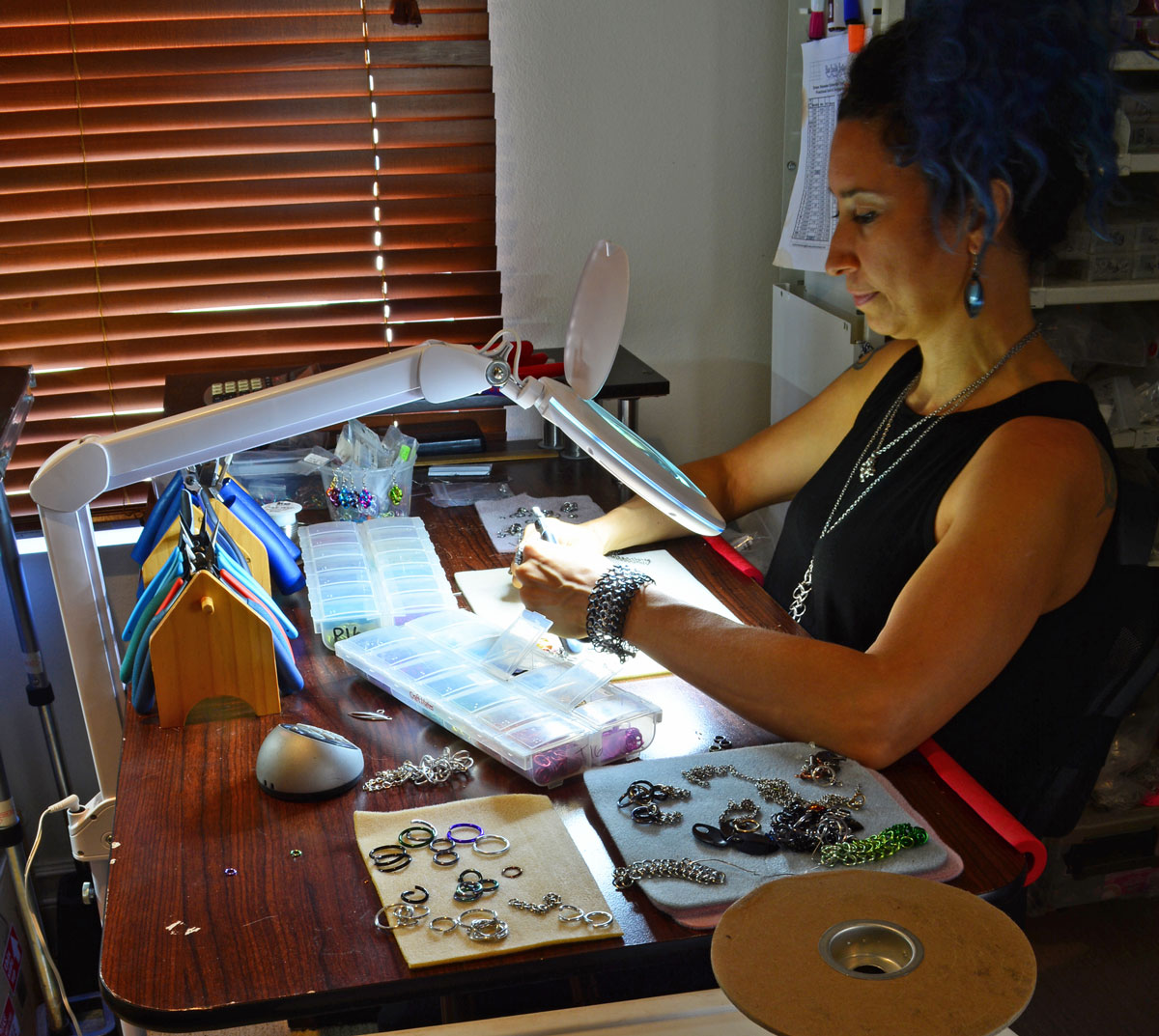 I've decided to keep the Brightech lamp in the floor configuration for use at my worktable. By clearing away my old task lamp, I have more surface on my worktable….and what crafter doesn't want more space? 😂 If you do want to use the table lamp configuration, the base measures about 7″ x 11″, so know that it takes up a good chunk of space.
Brightech also makes a clamping lamp version of this same lamp, but I prefer the 2-in-1 model that I tested because I can quickly and easily move the lamp if needed.
I'll still use my old craft lamp for travel (it's small and very portable). But for every day use, the Brightech LightView XL 2-in-1 is my new lamp of choice. Highly recommended!
Oh. I should add that there might be competition in my household for this lamp. During my testing week when I was moving the lamp all around the house, I caught my sweetie, who makes scale model and customs, using it to paint some of his work!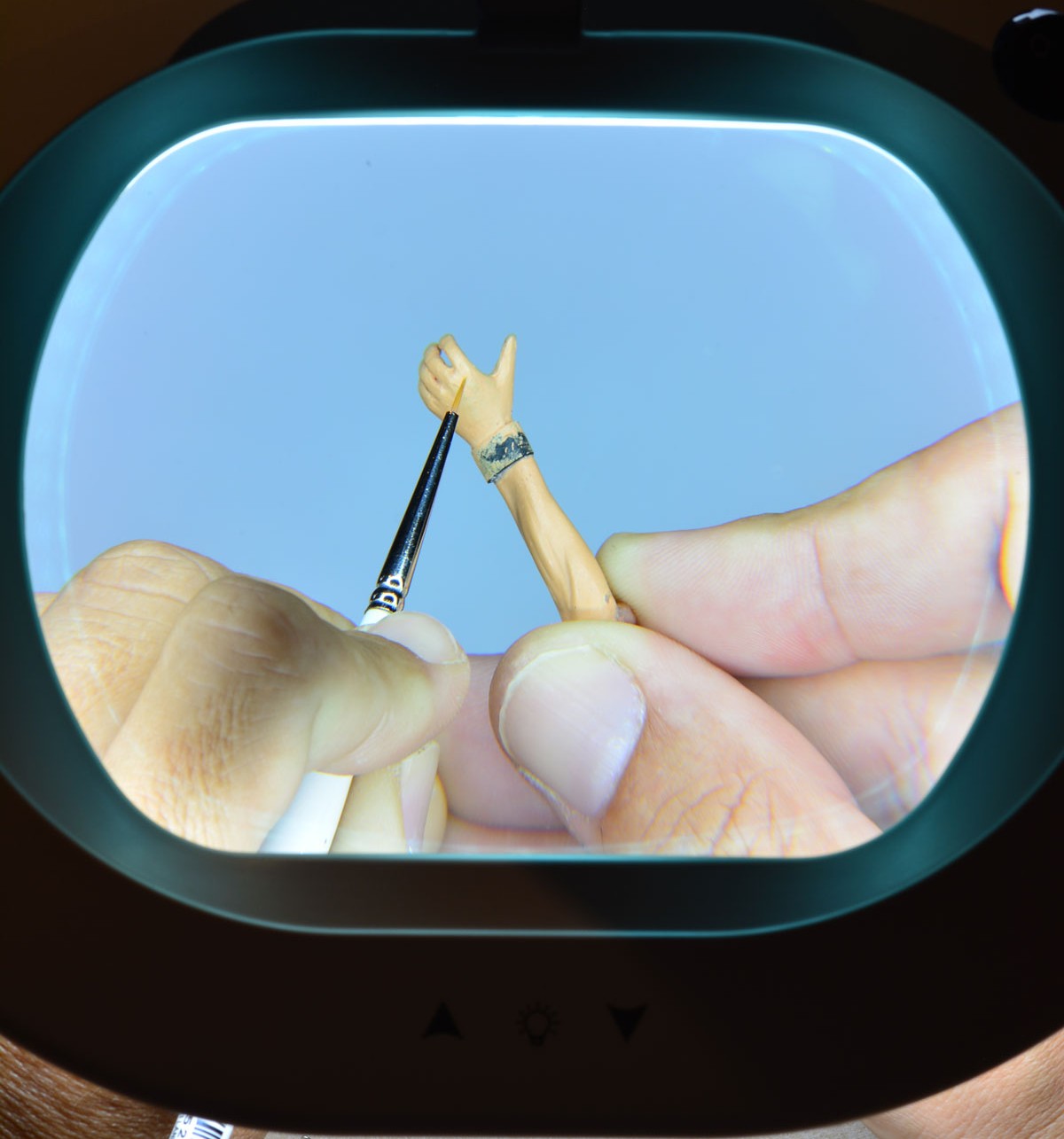 I have a feeling I'll be getting him a lamp of his own this holiday season!
If you're in the market to upgrade your current lighting situation, or if you know a crafter who could use a lamp, check out the wide selection at Brightech today. Orders $50+ ship free within the US, and this lamp comes with a 5-year warranty, showing that they stand behind their product.
Anything else you'd like to know about my experiences with the lamp? Leave a comment below.
Happy crafting!