Social Distancing & Staying At Home Is Becoming A Thing? Crafters: "We Got This."
For the past few days, I've been wanting to share photos of some new products, but felt I first needed to take a moment to address the thing that so many people are talking about, which is of course, COVID-19.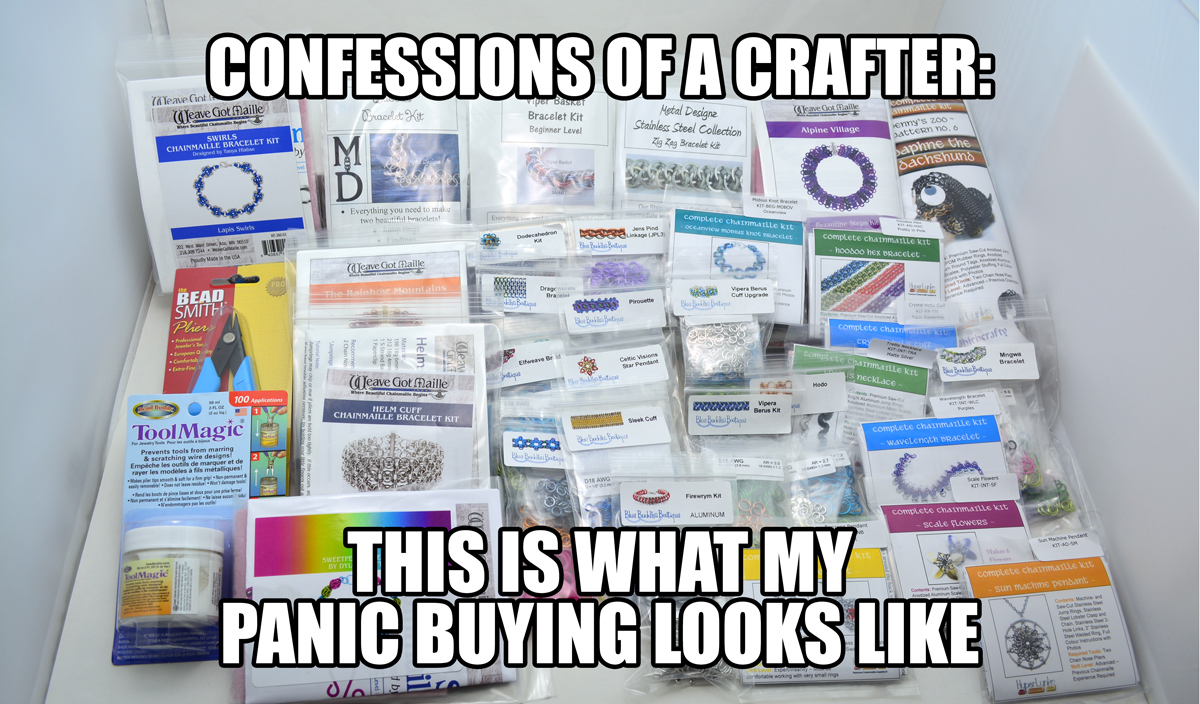 Mitigation
Over the past few days it became clear the containment effort of COVID-19 has not been successful in the US, and things are going to get worse before they get better. The virus's exponential growth needs to be stalled and reversed to keep US hospitals from being overloaded. The continued spread is inevitable. What this leads to a few months down the road can be vastly different, based on all the actions we take or don't take moving forward. The sooner we can slow this growth, the better. (Here's a great video about exponential growth and epidemics.)
Even with the best efforts, there's going to be disruption in many people's daily lives, sometimes minimal and sometimes substantial. I already have customers (and family friends) across the world who are under lockdown or self-quarantine. The mother of an acquaintance died on one of the cruise ships. People are panic-buying all over the country.
B3 Response
There are obviously a lot of unknowns with this situation that experts rightly refer to as "rapidly evolving." I know that right now, the coronavirus risk to me personally is very low. There have been no confirmed outbreaks in my neighborhood. I, like everyone else, am still far, FAR more likely to die from heart disease or a car accident. But, should I catch the virus, I could easily carry it and pass it on to someone vulnerable.
My mom is one of those vulnerable people, due to age and a compromised immune system. I see her multiple times a week, and she helps out with B3 kit assembly. She's pretty much all the family I have, and for her sake, starting February 29, I began minimizing my risk by essentially being a hermit until the situation is more understood and under control. To be honest, being a homebody is basically my normal lifestyle, so this isn't actually a huge change or sacrifice for me. Introverts, it's our turn to save the world!!! 😉
As far as Blue Buddha goes, I'm still prepping and shipping orders and will continue to do so while adapting to the situation. (For instance, my trips to the Post Office may eventually become fewer and far between). I'll keep you guys updated on this blog, on the B3 Facebook page and/or in the announcement section of the B3 Etsy shop (scroll down on the main shop page past the listings until you see Announcements.)
Crafting is soothing for many people, and I want to keep inspiring you especially if you're struggling. Because the more soothed and calm people we have in the world, the better. Also, if you're stuck at home for days on end, it's great to have something to do to keep your mind and hands occupied. Not to mention, you wind up with something tangible, which is more than can be said for binge-watching a TV show! I mean, don't get me wrong, I'm sure I'll do some binge watching in the next couple months, heh.
Let's Hang Virtually: B3 Community Craft Session Online Coming Soon!
This is the perfect time for me to launch a hangout session, which we used to do in-person at the Blue Buddha shop in Chicago. I've been meaning to do an "ask the artist" video/webinar to answer a few questions an artisan sent me… maybe this would be a good chance for me to answer those questions while y'all craft. Are ya down? I was thinking a YouTube livestream would probably be the best and easiest way for most of you to listen/watch. If you have other suggestions for platforms, let me know in the comments below!
I wish all of you the very best. Feel free to reach out anytime.
P.S. The title of this post is a play on words from Love in the time of Cholera by Gabriel García Márquezz, one of my favorite authors. If you're panic buying, might I also suggest books? There's a few suggestions in my recent post on sci-fi audio books.