Jens Pind Linkage Kits & Tutorial by Blue Buddha Boutique
At long last, JPL5 instructions are here! This has been one of my most-requested projects, and I'm excited to have put together a thorough guide so you can conquer this weave!
First off, if you're intimidated by JPL5, I recommend checking out this video that shows how to weave JPL5 from a starter piece. You'll probably be surprised at how easy it looks!

If that has you excited to create JPL5, hop on over to grab instructions (and/or a starter piece) from our Etsy shop. You can also buy JPL5 kits in 4 colorways and choose from dozens of colors to create your very own custom-color JPL5 kit.
PDF + Video Tutorial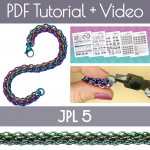 Blue Buddha Boutique's full JPL5 tutorial contains:
• 3 pages of step-by-step photos for creating this weave in 5 colors
• 2-page "quick start" chart to create JPL5 in 2-, 3-, 4- or 6 colors
• cover page with ring sizes and "weave overview" summary
• link to a private, 20-minute video that demonstrates every step, including how I hold the weave in my hand, plus a "checking your work" and troubleshooting section to keep you on track
• left- and right-hand PDFs and videos included
• PDF includes links to video at each steps, so you can jump to the exact spot you need
Doing JPL5 in Other Numbers of Colors
I strongly, strongly, strongly recommend learning JPL5 with 5 colors. Once you are comfortable weaving in 5 colors, you can try doing JPL5 in 2 or 3 (or any other number) of colors. The PDF tutorial includes a "quick start" chart that shows steps 1-19 in 2-, 3-, 4- and 6-colors. Check out how the chart works:

I hope the comprehensive PDF tutorial and videos make this weave easy—and dare I say, even fun?—for you.
I love to know about your successes, so please feel free to tag BlueBuddhaBoutique on social media and share what you've made. Or simply send your pic to customer[email protected]! Happy weaving – you got this!
Here is the full lineup of JPL5 offerings from Blue Buddha Boutique: