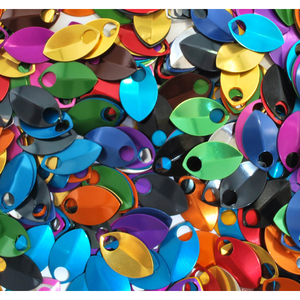 Aluminum & Anodized Aluminum Scales
These components make spectacular additions to your chainmaille pieces. Combine with L16 AA to make shaggy scales earrings, bracelets and necklaces. See our free Shaggy Scales Tutorial for instructions. These scales are anodized in the USA using a process that allows for full-color coverage, meaning even the edges are colored. The scales measure 7/8" x 9/16" x 0.025" (22.2 mm x 14.3 mm x 0.6mm). Occasionally we get an off-color batch from our anodizer, so we might have colors like "light teal" or "dark gold" (or any other color that you do not see listed on the Anodized Aluminum page). Once we finish that batch, we might never have them again. Therefore, if you order scales, please order enough to finish your project all at once, as we cannot guarantee that we can match a color from a previous order.
Please visit our FAQ for details on what colors are contained in our mixes.
New finish: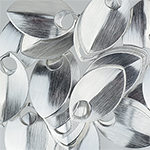 As of 9/29/15 our scales have been coming in from our supplier with a bit of a striped finish. This is the way that the plain aluminum scales have been coming in, and these are the scales we have been anodizing. The plain aluminum scales are pictured above. Currently our turquoise scales are also available in this finish. This striped finish makes for an even shiner scale. If you are concerned about whether or not a specific scale will come in this finish, please contact customer care.
One Anodized Aluminum Scale
25 Piece Anodized Aluminum Scales
100 Piece Anodized Aluminum Scales
Stainless Steel Closed Rings

Pre-closed L16 stainless steel rings, because let's face it: these are tough little buggers to close! These are good for using at the end of a piece, for a lobster claw or handmade hook to clasp onto. Or, use them as pre-closed rings in a weave. 16g SWG = 1.626 mm / 0.064". Inner diameter = L = 6.4 mm / 1/4".
Closed L16 Ring - Stainless Steel
Closed L16 Ring - Stainless Steel, Pack of 10