Welcome to Blue Buddha Boutique!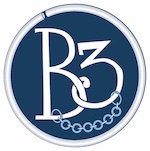 Enjoy browsing our library of 150+ chainmaille designs. When you're ready to purchase a pattern, check out our Blue Buddha Boutique Etsy Shop for all available chainmaille tutorials, plus limited-edition kits and other jewelry supplies.

To shop for finished jewelry by Blue Buddha's founder, visit: Rebeca Mojica Jewelry.

Thank you for supporting independent artisans! Happy weaving!