The Weaving Wednesday Weekly Deal starting today is:
20% OFF

20-gauge Anodized Aluminum seconds (fades and off-color rings)
Use code GRADE20 during checkout.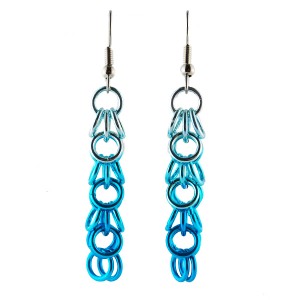 B3 Anodized Aluminum seconds are cost-effective, non-quality controlled batches of our anodized aluminum jump rings. We offer two different grades of seconds: Grade B rings have less variation than Grade C. Both grades may contain uncolored or "white" rings, and Grade C will have more of these rings than Grade B.
We created our seconds to provide a more cost-effective option for customers who may need a lot of colored rings and are willing to do a little picking and sorting themselves.
Our 20-gauge seconds are sold in packs of 1,000.
NOTE: Grade C rings used to be our "Color Fades." Check out our blog post for Weave Ideas Using Anodized Aluminum Fades.
Check out a side-by-side example of our grades in orange:


Left to right: Premium Anodized Aluminum, Grade B, and Grade C.
---

Use coupon code GRADE20 to receive 20% off 20-gauge grades – sizes D20 and F20 –  through Tuesday, October 6 (11:59 pm CT). And then our next deal will start Wednesday, October 7!
Sign up for our Weekly Deals newsletter (and monitor your spam folders, just in case!) to be among the first to find out what the next Weaving Wednesday Weekly Deal is!