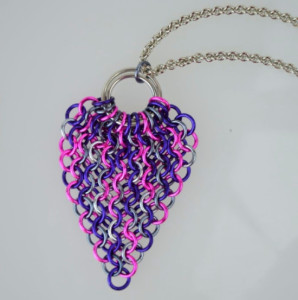 It's time to vote on a colorway for our July Maillers' Choice kit. Please select your favorite combination for the new colorful Feather Mesh bracelet by Wednesday July 8.
European 4-1 is truly the classic chainmaille weave, used in countless pieces of ancient armor. Thanks to Aimee Leang, Blue Buddha's friendly phone voice, this weave has been brought up to date with her modern design, Feather Mesh. This bold pendant features anodized aluminum mesh gathered by extra-large aluminum rings.
The 3.75″ pendant (10 cm) flows gently on an 18-inch chain, becoming the ultimate summer statement necklace.
This month, your choices are:
Iridescent gunmetal, pink and purple (as shown above)
Red, orange gold:

Turquoise, blue, lime:

Yellow, green, violet: