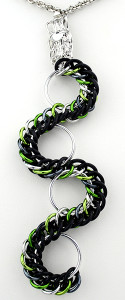 It's time to vote on a colorway for our September Maillers' Choice kit. Please select your favorite combination for the new colorful Sea Serpent bracelet by Wednesday, August 2.
Sea Serpent, a Half Persian 3-1-based necklace by Darlene Ostrowski combines rubber with anodized aluminum and aluminum rings. Wear the necklace as a long pendant as shown at right, or position the serpent horizontally for a shorter necklace.
This project features L16 jump rings and rubber rings—16 SWG (1.6 mm) 1/4″ (6.35 mm)—with large KK16 jump rings—16 SWG (1.6 mm) 5/8″ (15.9 mm). We'll also be selling the serpent's head (difficult to see in this photo, but we'll have better images when we release the project!) a la carte should you wish to stock up!
This month, your choices are:
dragon mix anodized aluminum + black rubber (as shown in photo of the finished piece):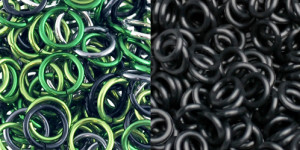 water mix anodized aluminum + black rubber :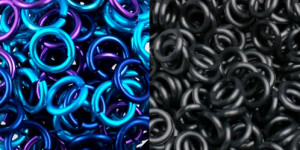 black anodized aluminum + tomato red rubber: