It's been far too long since we've gotten to dive into the mind of a great chainmaille artist and we are thrilled to have Spider of Silverweaver and Spiderchain as our next contributor.  Spider has been a longtime friend of Rebeca and Blue Buddha Boutique – basically, we adore her.  Not only does she produce incredible chainmaille supplies, great projects, and some awesome instructional DVDs, but she's just an overall great lady.  When you consider all the things Spider does (on her website she says "I'm Spider, the founder of Spiderchain Jewelry. I'm the designer, webmistress, accountant, shipping department, and janitor. I coil, cut, count, weave, choose, email, anodize, troubleshoot, and teach.") it's easy to forget that she has another full time job – mother.
Our "Ask an Artist" article with Spider will focus on her experiences with balancing work and life – something we feel so many of our readers can relate to.  Read on to learn more about Spider and find out how you can ask her your questions about "doing it all"…and keeping it all balanced.
___________________________________________________________________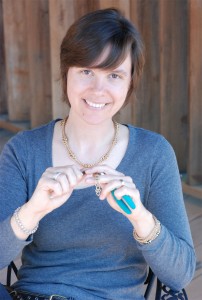 Spider is a chainmail artist currently living in the San Francisco Bay Area. Her childhood was spent in Mendocino, a secluded community of artists on the California coast, though eventually she followed her left-brain to Boston to join the technology revolution, receiving a degree in Mechanical Engineering from MIT. After several years as a computer geek she discovered that her passion lay not in technology, but in art and today she spends her time discovering new and beautiful ways to weave metal.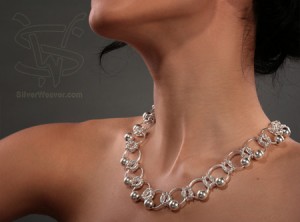 Spider's passion for making and teaching others how to make chainmaille got her started with her own business, however as many small business owners can attest to, the day-to-day dealings are often less glamorous (in Spider's case, fulfilling supply orders, answering customer questions and keeping up with inventory) than the passion that got them started.  For Spider, the challenge to manage her time stems from the need to keep up with her business each day knowing that when her second grade daughter comes home from school, it's all about homework, cuddle time and swim lessons.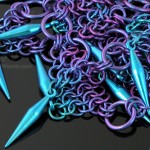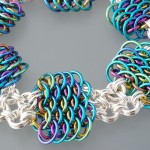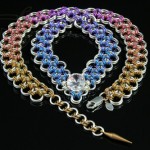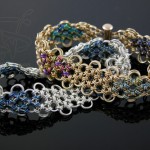 __________________________________________________________________

It's your turn to pick Spider's brain about balancing work and life. We will be accepting questions until Saturday, October 15th! Here's how to get your question to Spider: