Enter For Your Chance To Win This Book Of DIY Projects From Around The Globe
UPDATE April 1 – Congratulations, Breanna O of IL – you won! Thank you everyone who entered; I really enjoyed reading all of your responses.

Disclosure: Some of the links below are affiliate links, meaning, at no cost to you, I may earn a commission if you click through and make a purchase. All opinions expressed are my own.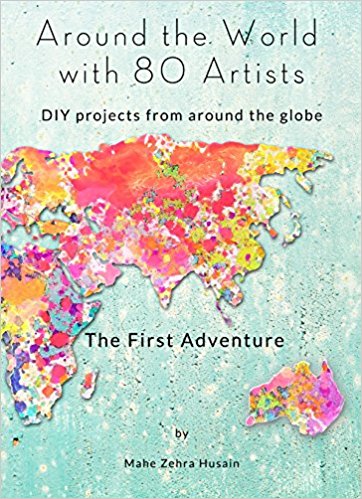 March is National Craft Month! To celebrate, I'm giving away a stunning crafts book featuring dozens upon dozens of step-by-step crafts projects to get your creative juices flowing. Eighty artists from 22 different countries contributed to Around The World With 80 Artists: DIY Projects From Around The Globe
. The 220-page book features a huge variety of projects: coloring pages, mandala making, watercolor techniques, origami, mixed media, monoprinting and more! You'll even find a few of the artists' favorite recipes scattered throughout the book.
The book was created by Mahe Zehra Husain. She writes, "This book was compiled at a time when narratives of hate, intolerance and destruction pervade the airwaves. Even minor differences have acquired the power to ignite raging fires, and far too many people have become distrustful of anything they find unfamiliar. Around the World with 80 Artists is a message of hope in these testing times, a testament to the richness and strength that lies in diversity… [This book is] an exuberant celebration of creativity – in all the various forms and styles it adopts around the globe."

Twenty percent of the proceeds go to The Malala Fund to help educate girls who might not otherwise have a chance at an education.
The colorful table of contents showcases all the projects in this book: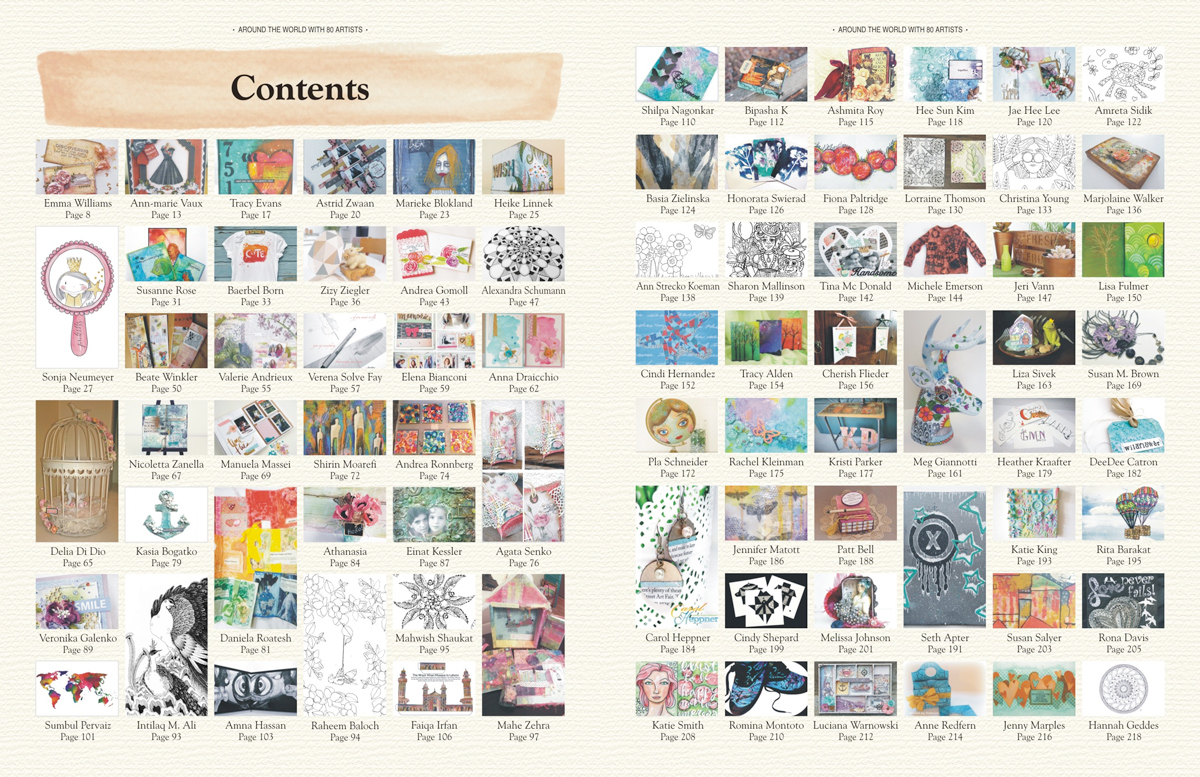 You can purchase your copy of Around the World with 80 Artists
on Amazon or directly from the author from her website MZCreates.
Visit MZCreates.com/around-the-world for free downloads of templates and printables from the book.
For Your Chance To Win
As I was one of the first people to help crowdfund this book, I received 2 copies. I'm keeping one copy to enjoy with my mom, and giving the other to a lucky Blue Buddha fan!
Two ways to win:
1 – Leave a comment on this blog post by Friday, March 30. I'd love to get to know you better, so tell me something about yourself! If you're a chainmailler, I'd love to know your favorite weaves or how you got started. If you do other crafts – what do you make? What are your favorite colors? Why do you craft? Essentially, just tell me something crafts/chainmaille related about yourself!

2 – For a BONUS chance to win: If you purchase anything in the Blue Buddha Boutique Etsy shop from now until Friday, March 30, write "Around the World" in the message to seller section when you checkout, and I'll add an entry in your name.
Good luck!
Rules & fine print:
1 – You must be 18 or older to enter.
2 – The book can be shipped within the US, all territories included. (If you're in another country, you can still enter if you have a US address the book can be shipped to, or if you're willing to pay for 100% of all associated shipping/customs/duties costs to get the book to your country.)
3 – Everyone has 1 or 2 chances to win (depending on if you comment on the blog, or make a purchase with a comment on Etsy, or both). Note to tricksters: Even if you write lots of separate comments, or place multiple Etsy orders for single PDFs and include the message to seller each time – only ONE of each of those will count. Nice try, though. 😉
4 – Be sure to double-check your email address, as that is the method by which I'll contact the winner! (And then remember to check that email. The notification will come from [email protected])
5 – Contest ends at 11:59 pm Pacific Time, Friday March 30, 2018. Entries received after that time are ineligible to win.
6 – Winner will be randomly selected on Saturday, March 31, 2018 and notified by end of day Monday, April 2. If winner does not respond by Friday, April 6, winner forfeits the prize and another winner will be selected on Saturday, April 7.