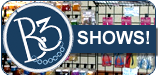 Our Show Schedule
Blue Buddha Boutique participates in bead shows, craft shows, art fairs and more! We can be seen locally and across the country throughout the year.

Check out Guided Learning each month on Thursdays and Saturdays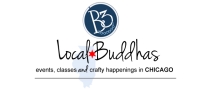 And be sure to join our "Local Buddhas" mailing list to stay in the loop!
---
The two shops now share a location at 1127 W Granville in Chicago's Edgewater neighborhood.

Join us on July 1, 10am-9pm to celebrate AVP Jewelry and Beads on Granville's grand opening with special offers and more!
•10:00am Ribbon Cutting Ceremony with the presence of the 48th Ward Alderman and representatives from the Edgewater Chamber of Commerce.
•

If you make a purchase at AVP Beads, show us your receipt and receive 10% off any item in the Blue Buddha Artisan Market and 20% off all other items in our shop (including classes, tools and supplies). Items must be purchased in-store from our regular shop inventory.
---
---
Past Chainmaille Jewelry Shows and Craft Fairs
---
June 2015 - Bead&Button Show (Milwaukee, WI)
March 2015 – Maker's Day: Watch. Make. Take!
November 2014 – DIY Trunk Show
August 2014 – Edge Fest 2014
June 2014 – Bead&Button Show
March 2014 – Spring Artisan Trunk Show
March 2014 – Maker's Day: Watch. Make. Take!
December 2013 – Holiday Trunk Show
December 2013 – One of a Kind Show and Sale
October 2013 – Fall 2013 Craft Racket: Pricing Your Work
October 2013 – Grand Opening Party
September 2013 – Edgewater Fall Art Fair
August 2013 – Edge Fest 2013
June 2013 – Bead&Button Show (Milwaukee, WI)
May 2013 – Garage Sale
April 2013 – Do It Your Own D*mn Self
March 2013 – Ayla's Wonderful World of Beads
December 2012 – One of a Kind Show and Sale
November 2012 – DIY Trunk Show
August 2012 – Edge Fest 2012
June 2012 – Bead&Button Show (Milwaukee, WI)
March 2012 – Ayla's Wonderful World of Beads
December 2011 – One of a Kind Show
November 2011 – DIY Trunk Show
November 2011 – Ayla's Wonderful World of Beads-Evanston Fall Show
June 2011 – Bead&Button show, Milwaukee, WI
February 2011 – Create Your Style show (Tucson, AZ)
February 2011 – 2 classes, book signing @ A Beaucoup Congé Beads (Tucson, AZ)
January 2011 – Book Signing @ A Beadtiful Thing
December 2010 – Book Signing and Trunk Show
December 2010 – Chained Book Release Party
December 2010 – One of a Kind Show
November 2010 – DIY Trunk Show
June 2010 – Fountain Square Arts Festival (Evanston,IL)
June 2010 – Bead&Button Show (Milwaukee, WI)
April 2010 – Do It Your Own D*mn Self Supplies Show
December 2009 – One of a Kind Show
November 2009 – D.I.Y. Trunk Show
September 2009 – Caravan Beads 15th Anniversary Celebration
June 2009 – Bead&Button Show (Milwaukee, WI)
April 2009 – DIY: Concept, Create, Capitol - special event at Columbia College
March 2009 – Do It Your Own D*mn Self Supplies Show
March 2009 – Ayla's Wonderful World of Beads-Evanston Spring Bead Bazaar
December 2008 – Blue Buddha Holiday Show
November 2008 – D.I.Y. Trunk Show
November 2008 – Ayla's Wonderful World of Beads-Evanston Fall Bead Bazaar
September 2008 – North Park University Block Party
June 2008 – Bead&Button Show (Milwaukee, WI)
May 2008 – Chicago Craft Mafia presents: Hand May-ed
March 2008 – Ayla's Wonderful World of Beads-Evanston Spring Bead Bazaar
February 2008 – To Bead True Blue (Tucson, AZ)
December 2007 – Lillstreet Art Center - 32nd Annual Holiday Exhibition and Sale
December 2007 – Blue Buddha's Holiday Show & Pre-Moving Sale
November 2007 – D.I.Y. Trunk Show
November 2007 – Ayla's Wonderful World of Beads-Evanston Fall Bead Bazaar
June 2007 – Bead&Button show (instructor)
May 2007 – Chicago Craft Mafia presents: Spring Loaded
March 2007 – Ayla's Wonderful World of Beads - Evanston Spring Bead Bazaar
January 2007 – Lillstreet Art Center - Annual Faculty Exhibition
January 2007 – Winter Delights Stitching Salon - Artist Demonstration
December 2006 – Razor's Edge Boutique - Artist of the Month
December 2006 – Formed and Fabricated, LillStreet Art Center
November 2006 – DIY Trunk Show
September 2006 – Grand Opening Reception of Razor's Edge Boutique
August 2006 – Artzilla Craftzuki at Schuba's Tavern
June 2006 – Book Release Party
February 2006 – Aesthetic Eye Jewelry Trunk Show
December 2005 – Lincoln Square Pottery Center Holiday Show
December 2005 – DEPART-ment
November 2005 – Aesthetic Eye Jewelry Trunk Show
November 2005 – DIY Trunk Show
September 2005 – Rockwell Crossing Art Walk
July 2005 – Chicago Craft Mafia: Summer Shakedown

June 2004 – Aesthetic Eye, Vim & Vinegar Featured Jeweler