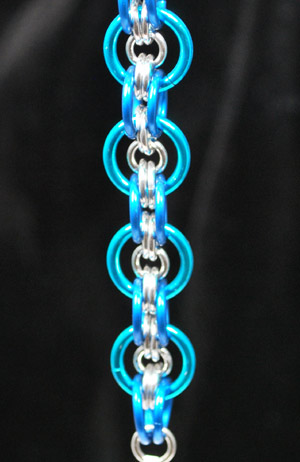 Our summer intern Sam recently got to know the Bulls Eye weave very, very intimately.
The image at left shows large version with T14 turquoise, P16 blue, F18 for the center "bulls eye" and I18 connecting the bulls eye to the turquoise rings. We'll probably make some aluminum earrings with this size because they'll still be very lightweight. This would also be a pretty fun necklace.
Then we had Sam make a 6-in-1 sheet version, because it's been on Rebeca's to-do list for about 5 years and never quite got done. It's fairly stiff, and might be too cumbersome to extend out as a bracelet.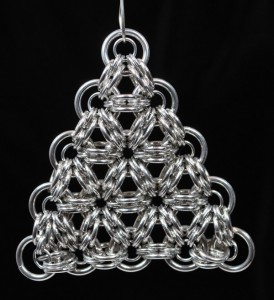 The real fun began when she started doing the 4-1 sheet version. Time consuming as heck, but oh so tactically satisfying! Vanessa should totally make some wearable art with this pattern. (hint, hint)