The question of which findings work best to close colorful anodized aluminum projects has been popping up a lot for us lately – on our page on Facebook, through customer emails, etc.  Seeing the frequency of this questions, it seems like a blog post about this subject is in order – so here it is!

NOTE: Some of the examples below use our other colored rings (anodized niobium and enameled copper) – however, they should still help to give you an idea of how the clasps look with color.
=================================================================
Figuring out which finding to use to finish a piece can be tricky.  Do you want the clasp to be a feature?  Do you want it to blend in seamlessly?  Will what I see on the website actually match my final project?  These are all questions that add to that trickiness.

If your project combines anodized aluminum with plain base metal rings, matching the clasp to the base metal rings is an easy way to make it feel part of the piece.  We offer base metal findings in finishes to match our aluminum, copper, and jewelry brass jump rings.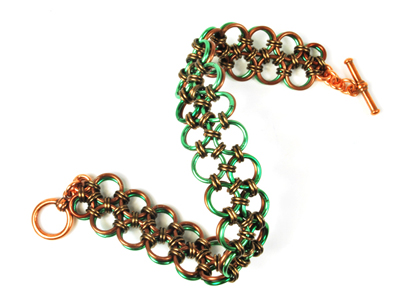 You can also match our base metal findings to full-color projects.  If your project uses warm colors, consider using copper or gold finish.  Cool colors work best with rhodium finish.
If your project uses our darker colors (black, purple, iridescent gunmetal, etc.) you might want to try a base metal clasp in a gunmetal finish.  We've finished many darker projects with gunmetal clasps and they look beautiful.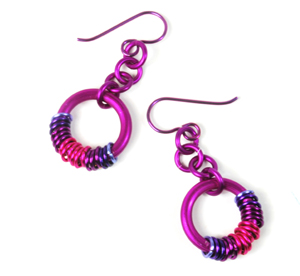 If your project is brightly colored and you'd like to finish it with color as well, you might want to consider using our anodized niobium or enameled copper toggles.  Our anodized niobium toggles are handmade especially for us and can be anodized to 30 different colors.  We also offer anodized niobium earwire to finish colorful earring projects!

Our enameled copper toggles are fun and funky and come in 10 bright colors.  For a bold statement, finish a project with the large red circle toggle!
You might be wondering why we don't offer anodized aluminum findings to match our AA jump rings.  We posted some information about this on our wall on Facebook just this week:
We would love to eventually carry matching AA clasps…in fact it's something we've had on our minds for a while. We have done some preliminary thinking and talking about it with one of our manufacturers (we'll only do it if we can make them U.S.A.-made like our AA rings) but we haven't made any official moves to make them….yet. 😉

We'll keep everyone posted once we get to the point of being able to make them!
So that's the skinny on choosing the ring finding for your anodized aluminum project.  It's not an exact science so the decision might still be a tricky one but we hope that gives you a little more direction.  Have some great suggestions of your own on how to finished a colored pieces?  Share them with us on our wall on Facebook!