Going the Traditional Route to Publish Your Crafty Ideas And Turn Them Into A Book
By Rebeca Mojica

Disclosure: Some of the links to products below are affiliate links, meaning, at no cost to you, I may earn a commission if you click through and make a purchase. It helps me create content like this for you, and I thank you for your support.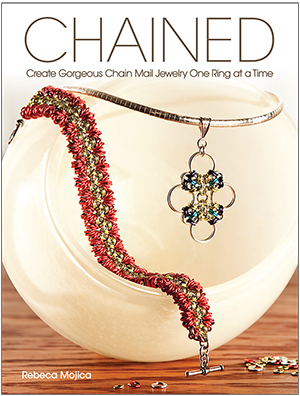 In part 1 of our "Publishing Your Crafty Project" posts, we reviewed submitting crafts projects to magazines and multi-authored books. In this follow-up post, Rebeca addresses what it's like to publish your own book.  If you're thinking about publishing your own crafty book, this is a must read. 
Read more in the post below and download the FREE PDF for an in-a-nutshell comparison of self-publishing vs. using a publisher.  
---
Writing a Book 
Writing a craft book is no joke.  It is a labor of love.  The chances of you getting rich, or even earning a decent amount of money, from your book are next to none.
The cold, hard truth
The average book in America sells fewer than 5,000 copies.  According to one source, of the titles on the shelves in retail stores, 93% never sell more than 1000 copies in their lifetime. Some of the books that have spent weeks on the New York Times bestseller list don't even sell more than 50,000 copies.
Most new writers only earn 1.5-8% of the cover price for each book sold. (Note that percentages can vary for the same book, depending on if the book was sold through Amazon, through the publisher's book club, etc.).  Do the math—this is not a lot of money for potentially 60, 100, 250+ hours worked. For small craft books, if the publisher pays an advance, the advance may only be $1,000.  The book might need to go to a second printing for the author to begin to receive any royalties at all … and the majority of books do not have a second print run.
So after all of this, why would anyone want to publish a book?  Well, it certainly can open doors and will greatly enhance your credibility as an artist/instructor.  It is deeply satisfying to tackle such a large project and have the wonderful feeling of accomplishment that comes from writing a book.  It can be thrilling to see your name in print.
For more info, see The 10 Awful Truths about Book Publishing and Book Industry Statistics.
Before you write your book
You need to have a market for your book so that the book will sell. If you are using a publisher, you must prove there is a market for your book. Your book proposal should list all the reasons why and how your book will sell.
To build enough influence to sell a book, you'll need to establish yourself as an expert in your field.  A great way to do this is by having single projects published in magazines, as already explained.  Have a website where you engage your students and readers.  Teach classes.  Build your newsletter mailing list.  Do whatever it takes to get your name out there as often as possible.
Be prepared to similarly promote your book. Set up a website devoted to your book.  Write blog posts and other articles promoting your book.  Create press releases for your book.
When you are ready, prepare a book proposal.  Even if you are self-publishing a book proposal can be a useful tool to help keep your focus as you write.  Your proposal should include a complete outline of your book, the total number of pages, at least one sample project and/or chapter, biographical information as well as a complete analysis of the market: What other books exist on this topic? How will your book stand out?  Why will people buy your book? How large is the market for your book? Is the market growing or shrinking? A great resource to help you through this process is Write the Perfect Book Proposal: 10 That Sold and Why by Jeff Herman and Deborah Levine Herman.
If you want to use a publishing house, send your proposal to multiple publishers. With any luck, you'll hear back within a few months, and with a lot of luck, you'll have your pick of publishers. Contact authors that have used those publishers to see what their experiences were.  Some publishers will request the book be fewer pages, or you change your focus slightly. It is up to you if you want to change your original vision in order to finalize your contract.
If you are self-publishing, some places you may wish to check out include authoragency.com, Xlibris.com, iUniverse.com and "1stBook-publishing."
Below are some at-a-glance pros and cons to self-publishing vs using a traditional publisher. Download the PDF at the bottom of this post for a printable version.
And good luck to all those seeking to get published!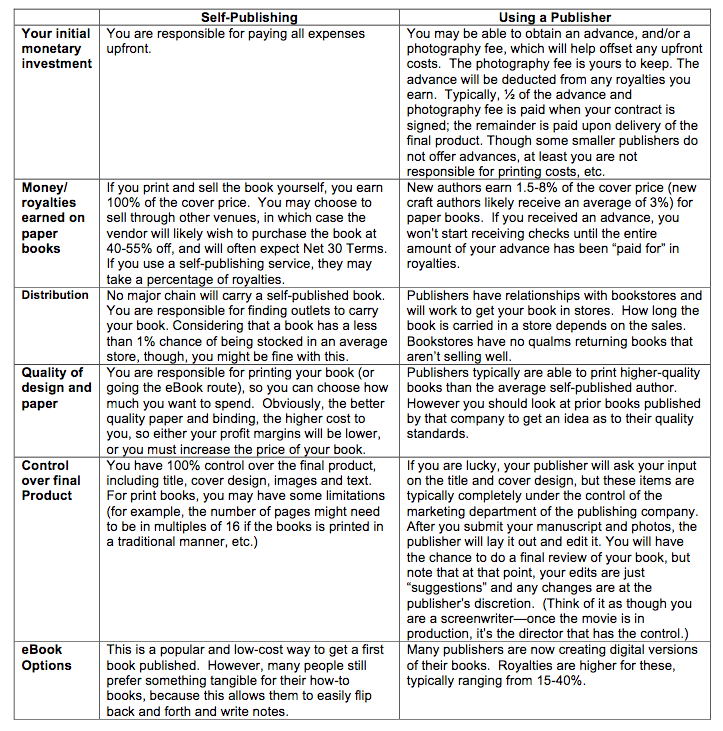 Download part 2 of the FREE "Publishing Your Crafty Project" PDF for an the in-a-nutshell comparison (shown above) of the process of self-publishing vs. using a publisher!

Read Part 1 of the series: Getting Your Craft Project Published in a Magazine