We have lots of website improvements planned for 2012 (including wishlists, a B3 community section and much more.)  The first of this long list of improvements is now live.  You can now log in to our website to check your order status and track your package.  Okay, so it's a pretty simple improvement, but we promise it's the first step towards making bigger strides like allowing you to shop from past orders and save items for later – pretty nifty!
---
Here's how to do it:
If you've placed an order with us in the past, you actually already have an account ready and waiting for you.  Click "Log In" in the upper right-hand corner of our site right underneath "Contact Us" (Note: These links only appear on newer pages of our website.  If you are on a page and wish to Log In but don't see the links to "Log In" and "Account", click to the home page.  We appreciate your patience as we continue to transition the rest of our website to allow for it to appear on all pages.)
Once you click on Log In, you'll see a window pop-up that looks like this: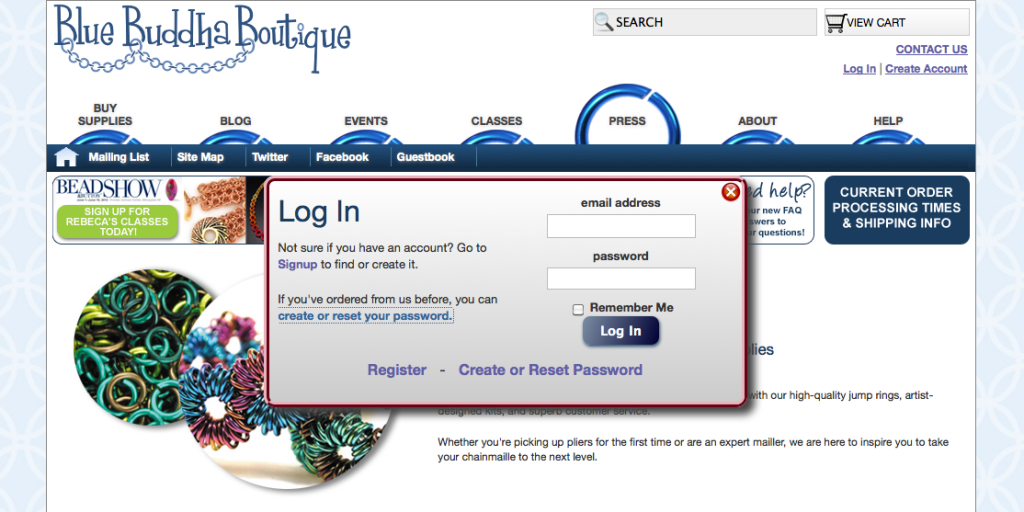 Click on the link that says "create or reset your password".  You'll be taken to a page that looks like this: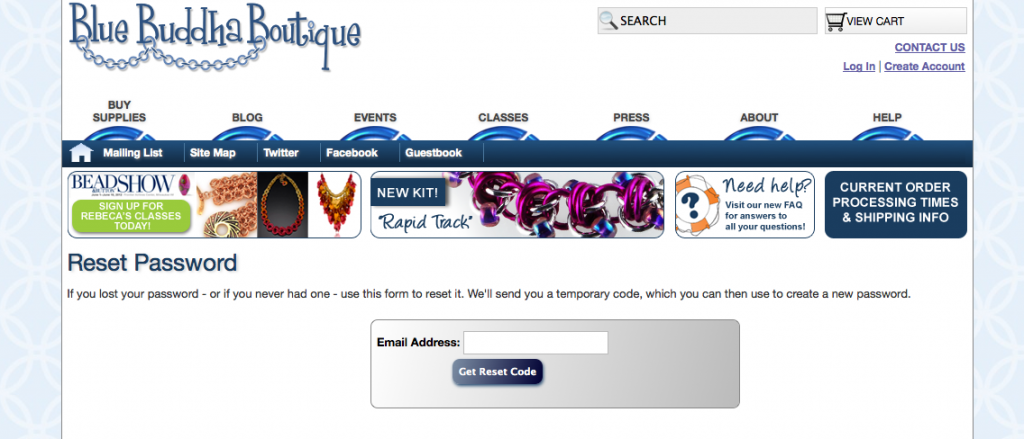 In the box provided, type the email address that you use to place orders with us.  It is important that you use the same email address.  If you do not, the account you create will not be connected to your B3 customer account and you won't be able to see your orders or tracking information when you log in.
After submitting your email address successfully, you should see this message: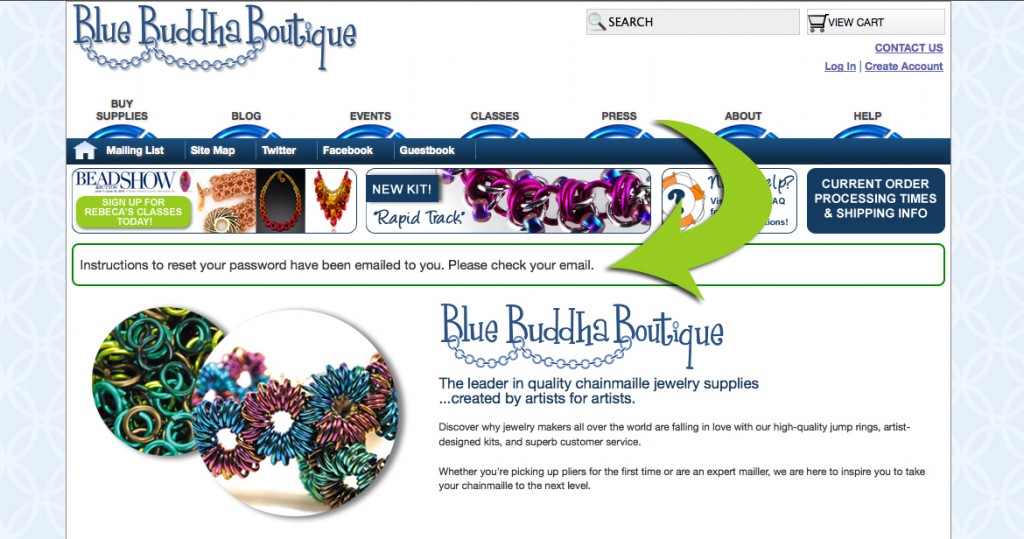 (Note: If the email address you entered does not appear in our records, you will see a message that says "Sorry, we don't have an account with the email address '[email protected]'. You can create a new account below." and you will be prompted to create a new account.  If you think you have reached this message in error, try going back and entering your email address again.  If you still receive the message, let us know by sending us an email to [email protected].)
Once your password request has been successfully submitted, you will receive an email to that address that says the following:
Hello [NAME],
Someone has asked to change the password for [email protected] on bluebuddhaboutique.com.
If you'd like to change your password, please visit this page:
http://www.bluebuddhaboutique.com/b3/reset_password/edit/[lots of random numbers and letters]
If you don't want to change your password, simply ignore this message, and your password will not be changed.
Please contact us at [email protected]bluebuddhaboutique.com if you require assistance.
Thanks,
Blue Buddha Boutique
Follow the link provided and you should see a page like this: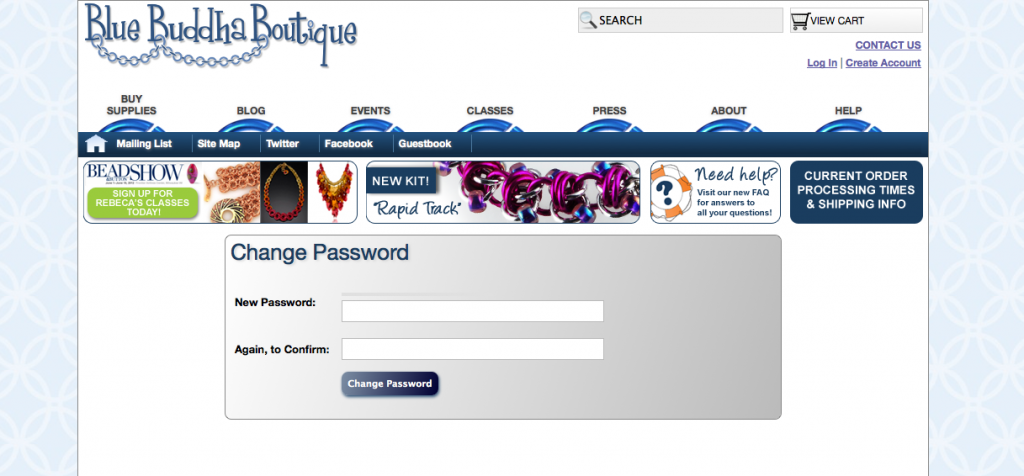 Type in your password, click "Change Password" and you're done! 
---
Creating an account from scratch is similar to this process but even simpler.  Just click on "Create Account" and follow the prompts.  Just remember, when you place your first order with us, use the same email address as the one you used to create your B3 account to see status and tracking information for your order.

---
When you are logged in, the links under "Contact Us" change to allow you to access your account, see your order status and log out (as shown below.)  Again, these links only appear on newer pages of our website.  Currently, you cannot edit any of your account information on our website, but that feature is coming soon so hang tight!

When you visit "My Account" and/or "Order Status" you may  see a symbol that looks like the one below.  That indicates that tracking information is available for your package.  Clicking on the tracking number link will take you directly to the tracking information for your package on USPS.com.

We'll keep you posted with cool new features as they are implemented!