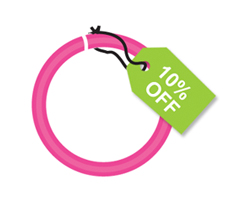 Launching our new shopping cart a couple months ago allowed us to begin offering automatic discounts on many of our products, taken right in your cart (finally!)  We've heard from many of you how much you're enjoying our new "Mix 'n' Match" discount (read more about this discount structure here on our Discounts Page.)  We also heard from you that you'd like to be able to save some money when you buy kits & instructions together.

Ask and you shall receive!  Now, when you order instructions (hardcopy or PDF) and one or more kits for the project together in the same order, you will automatically receive 5% off the kits and the instructions.  We are also working on introducing more discounts like the one we have for our freshly launched Miyuki seed beads (by 5 or more packs and receive a discount on all of them.) 
Have an idea for a discount that would save you money (within reason of course *wink*)?  Email it to us at

[email protected]

.  We can't promise we'll be able to institute your idea, but we often get great suggestions from customers that we hadn't thought of so email away!