It's no secret we geek out on super-intricate "Whoa, how did you make that?!" chainmaille projects around here, but sometimes you just want to have a little fun and create something quickly you can wear out that night.  Thus our "Free & Easy Jewelry Projects".
We'll be sharing project ideas that are quick (take less than 2 hours to create), simple (perfect for beginners) and utilize our FREE introductory tutorials or just simply tips included in the blog post to come together.  Just the kind of easy-peasy crafting you need every now and again, right??
---
Coiled Rubber Scallop Necklace and Earrings
If you love the look of coiled projects but can't muster the patience to close all those little rings, using our rubber o-rings is a great alternative because, well, they come pre-closed! This idea would also be beautiful using glass rings (also pre-closed) or our anodized aluminum fades (not pre-closed) to create an trendy ombre effect.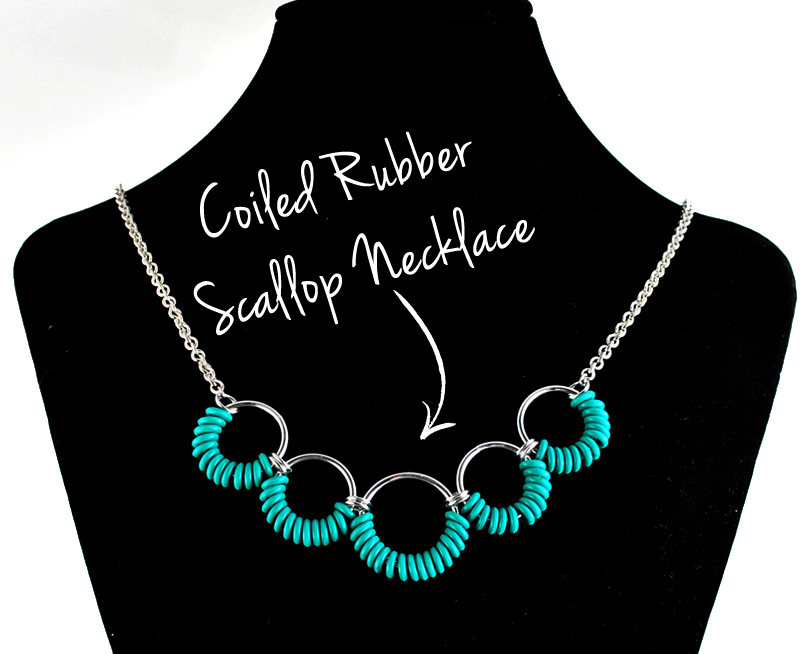 MATERIALS FOR NECKLACE
1 x extra-large jump ring (we used size SS14 in aluminum)
4 x large jump rings (we used size KK14 in aluminum)
69 x small rubber o-rings (we used size D14 in green)
10 x medium jump rings (we used size H18)
12″-18″ premade chain (depending on how long you want your necklace to be)
(see bottom of blog post for ring size conversions)
Note: We also used 2 super tiny B20 rings to connect the chain to the end rings of our centerpiece. If your premade chain links are wide enough to accommodate your final rings, you can skip these.
There's really no wrong way to make this necklace! Simple scoop open the large and extra-large rings and scoop the rubber rings onto them. We did 13 rubber rings on the large rings and 17 on the extra-large but have fun playing to see what you like best.
After closing these rings, connect them together using the medium jump rings. We used 2 in between each, but you could use 1 if you prefer that look.
To attache the chain, we added one medium ring to either end of the centerpiece and then added the chain using the tiny rings. Again, if you're using chunkier chain than we did, it's likely you can skip those little guys and just add the chain right to the final rings. Add your favorite finding to close off the back and you're done!
*Poof* you have a necklace! Pretty rockin', right?
---
We also created some matching earrings because, why not? The method for creating these is pretty much the same as the necklace, just make sure to add the connector rings in the center of your coiled rings instead of the ends. You can have fun playing with different ring sizes to create different silhouettes.
Here's what we used: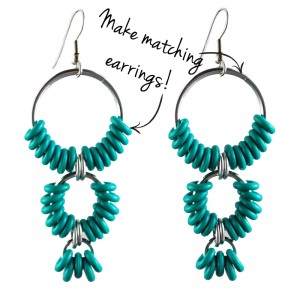 MATERIALS FOR EARRINGS
2 x extra-large jump rings (we used size SS14 in aluminum)
2 x large jump rings (we used size Z16 in aluminum)
2 x medium jump rings (we used size L18 in aluminum)
4 x small jump rings (we used size H18 in aluminum)
31 x small rubber o-rings (we used size D14 in green)
2 x stainless steel earwire
---
Ring size conversions:
These are the exact ring sizes we used to make the necklace and earrings. The patterns allow great flexibility for modification, so you can change up some of the sizes if you can't find them exactly. (The most important thing is to make sure whatever rings you use in place of H18 rings are still the proper size to fit around the extra-large/large (SS14/KK14) without being too tight nor too loose.)
SS14 – 14 SWG (2.0 mm) 3/4″ (19.0 mm)
KK14 – 14 SWG (2.0 mm) 5/8″ (15.9 mm)
Z16 – 16 SWG (1.6 mm) 15/32″ (11.9 mm)
L18 – 18 SWG (1.2 mm) 1/4″ (6.4 mm)
H18 – 18 SWG (1.2 mm) 3/16″ (4.8 mm)
D14 – 14 SWG (2.0 mm) 1/8″ (3.2 mm)
B20 – 20 AWG 3/32″ (2.4 mm)
---