As much as we love the delicate beauty of our solid silver jump rings, they're just not as in-demand as they used to be. And that's ok! We want to carry what you want to work with, so, we're making some changes around here. We've discontinued our silver rings — but this gives you a great opportunity to snag silver rings at a spectacular discount. Shop what's left of our silver jump rings and use coupon code BYEBYESILV for 40% off, while supplies last!
Discontinuing our silver rings means we have also discontinued our silver kits.  We didn't want to leave you without a more upscale option for our projects however, so we have started releasing stainless steel kits for many of our projects.  Since switching over to our current stainless steel wire (which is much easier to work with than rings we carried previously), we have noticed many more people opting to work in this sturdy metal.  It has a similar weight to silver without the high price and is easy for people to wear (even those with allergies to most metals).  It's also very easy to care for.  Yeah, we have a little crush on this metal, we'll admit it.

The following kits are now available with steel, and more will be added in the coming weeks and months. Stay tuned — and happy weaving!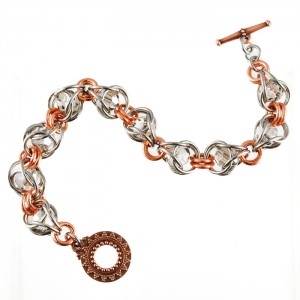 Limited Edition Stainless Steel Kits: 
Large Elegant Hourglass (pictured)
Tell us: What kits would YOU like to see offered in stainless steel? Let us know in the comments!