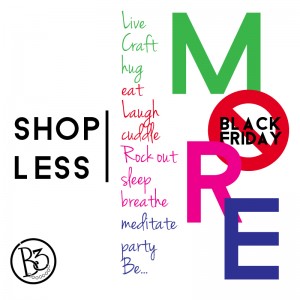 Thanksgiving is this Thursday, and we plan to do what we hope you are doing this week: Relax for a few days, eat a delicious meal or two, and spend some quality time with loved ones.
Blue Buddha Boutique — both our online and brick and mortar shops — will be closed Thursday, Nov. 27, through Sunday, Nov. 30. (You can still place orders online of course, but won't start processing them until Monday, Dec. 1.) We hope you respect our decision to not participate in Black Friday. 
Last year, Rebeca wrote a blog post explaining her thought process that led to this decision. You can visit it here: Why Our Store is Closed for Thanksgiving Weekend.
As the image says: live, craft, hug, eat, laugh, cuddle, rock out, sleep, breathe, meditate, party … just BE more.
Happy Thanksgiving!