To our friends at Holiday Inn,
Please accept this message from Blue Buddha Boutique to consider our organization for the #SmallBizWishContest sponsored by Holiday Inn.
Blue Buddha Boutique was founded 11 years ago by jewelry artist Rebeca Mojica as an online chainmaille supply and education resource. In 2013 the company evolved into a brick and mortar studio in Chicago and subsequently was voted Best New Business by the local Edgewater Chamber of Commerce.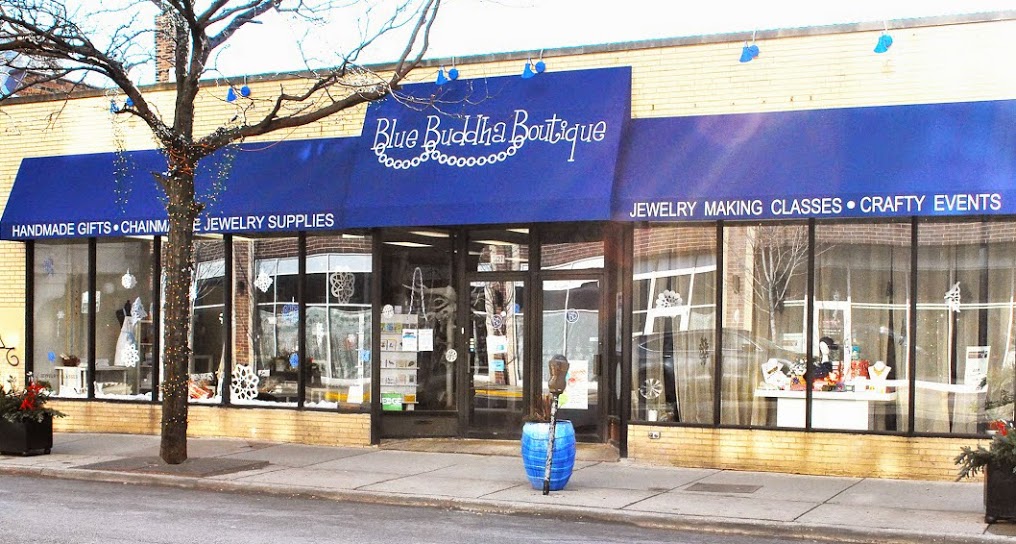 Last year, our crew at Blue Buddha Boutique helped people all over the world to make more than 10,000 pieces of beautiful, handcrafted jewelry. We strive to de-mystify the ancient art of chainmaille, and show everyone that handmade creations are within their grasp. Making chainmaille can be very therapeutic, and hundreds of customers have told us how soothing the repetitive nature of weaving chainmaille is. Combine that with the beautiful Blue Buddha designs, and people are constantly amazed at how enjoyable this craft is. By sharing the knowledge of how to make more than 100 artist-designed pieces, our customers can create gifts for loved ones for the rest of their lives.
Community Engagement
Blue Buddha's Edgewater studio represents much more than a place to take chainmaille classes. The space is used to help make the community, and the world, a better place—one tiny metal ring at a time. Blue Buddha is home to local organization meetings, grassroots discussions and a pantheon of educational resources. It serves as a safe space, providing a welcoming environment for the community to connect, explore their creativity, learn, ask questions and just make.
During monthly Open Studio sessions, as well as participation in the national CRE8TIME movement on the eighth of every month, we open our studio doors, free of charge, for people who want to connect, collaborate and create.
Our studio hosts free educational workshops by the Chicago Craft Mafia, which are designed to support local artisans in building their businesses.
Philanthropic & Pro Bono Activities
Blue Buddha Boutique regularly donates supplies to aspiring fashion and jewelry designers to help them launch their careers, and to those who make jewelry for various fundraising activities. Blue Buddha has donated more than $10,000 in product to community organizations, including jewelry and classes for non-profit fundraising efforts.
Blue Buddha Boutique owner and jewelry artist Rebeca Mojica provides pro bono participation in various panels and roundtables for business owners via the Women's Business Development Center and Edgewater Chamber of Commerce on topics such as increasing capacity, and hiring and increasing the minimum wage. She also schedules one-on-one pro bono informational/mentoring meetings with independent artists who are looking to start or grow their own business. 
What $25K Would Do For Blue Buddha

Winning a $25,000 grant from Holiday Inn would allow us to grow our new retail store, increasing our impact on our local community. We would be able to do a marketing push and invest in interactive technology to engage more Chicagoans and let them know that our space is here to help them reclaim their creativity. Increasing traffic to our store in turn helps boost the businesses of the nearly 50 artisans who sell their work through our Artisan Market. We would be able to outreach to various schools and community groups to present low-cost workshops, bringing the ancient craft of chainmaille to a new audience. All in all, this grant money would help elevate our business to a new level, creating the "mecca of creativity" that we've envisioned for our retail shop.