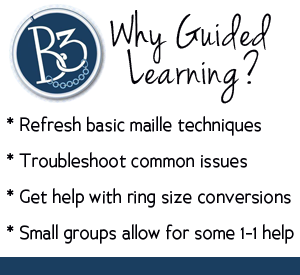 Want to learn the basics of chainmaille so you can tackle projects on your own? Looking to hone your skills? Need to add a clasp to a project that you started ages ago, but never finished? Wondering what all those numbers on the supplies packages mean? B3's Guided Learning is for you!
These affordable sessions are geared toward students age 16+ at any skill level. Most of the session will be spent working on individual projects, though the instructor may take a few minutes at the beginning to demonstrate basic chainmaille techniques, depending upon students' needs. Guided Learning sessions are perfect for those who need assistance, but don't require a full-fledged private lesson.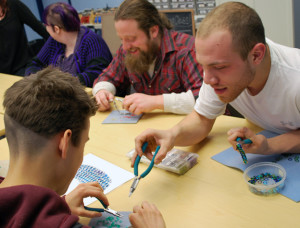 Guided Learning sessions will be held 6:00-7:30 pm on Thursdays (BYOB!), as well as 11:00 am – 12:30 pm on Saturdays through February and March.
Join us and make beautiful jewelry projects today!
---
A few notes about Guided Learning: Though we offer the use of Blue Buddha Boutique's pliers, there are no supplies included with Guided Learning. Students should bring in any instructions or projects they would like to work on. If you'll be purchasing something from B3 to work on, please arrive 15-20 minutes early so a staff member can assist you. Blue Buddha instructors and staff will help with size conversions, but we cannot guarantee that we will be able to supply every ring needed for non-Blue Buddha projects, nor can we guarantee that the shop will have exactly what you need in stock. Whenever possible, have a few back-up projects in mind in case you cannot weave your first-choice project during Guided Learning.