Take the classic Jens Pind weave, mix up the jump ring sizes, add a few captive rings, and voila! You've got a fantastic necklace.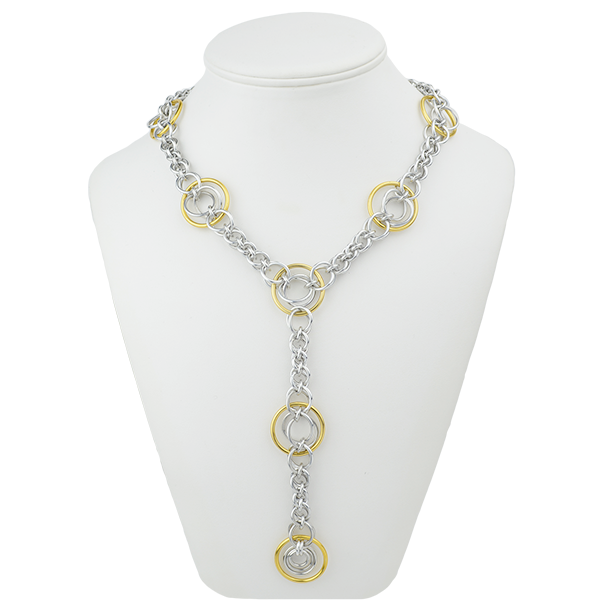 If you can do the Jens Pind weave, you can weave Just One Ring.
And then, you're ready for this elegant variation. This Y necklace is mainly the tapered Just One Ring chainmaille necklace made in all aluminum (which does make it more challenging than a tri-color version), plus a few captive rings in Faux Gold (gold anodized aluminum).
All ring sizes and conversions are listed in the Just One Ring tutorial.
1. To start, weave the piece in a single color of aluminum (of course, you can use multiple colors if you prefer), following the instructions as outlined in Just One Ring. EXCEPT: Do NOT create the extra-large unit of SS14 rings in the center of the piece.
NOTE: At this point you only have a regular necklace without the tail of the Y. You'll add that in step 3.
2. Then, add 5 captive rings, shown in gold. They are size SS14. See the diagram below for a closer view. You'll add them inside the T16 units, encircling the Z16 units.
3. Onto the gold ring in the center, add 2 intertwined (möbiused) T16s to start the tail that hangs straight down.
4. Continue with a G16 ring and then L16 rings, and so on, following the Just One Ring directions to lengthen the tail. Create 2 segments (see diagram), finishing on a set of T16 rings.
5. Add 2 H16 rings side by side through the final T16 rings.
6. Through the doubled H16 rings, add a Z16, T16 and L16 ring. They should nestle within one another.
7. Add the remaining 2 gold SS14 captive rings—the top one through two T16 units as usual and the final one just through the bottom set of T16 rings.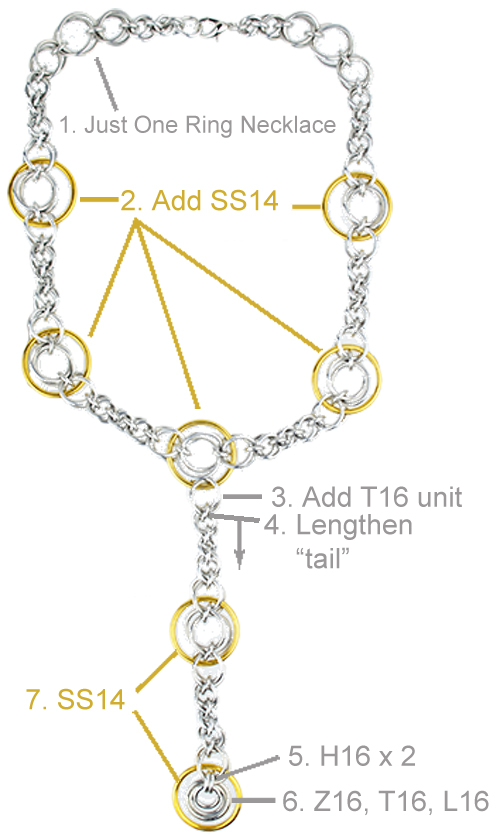 Stay tuned for additional Just One Ring variations!
Show off what you make. Share what you make to the Blue Buddha page on Facebook and we might feature you! Or, upload to Instagram and tag us: @bluebuddhaboutique #chainmaille