Athena Necklace Kit – DIY Chainmaille Necklace – Available from QVC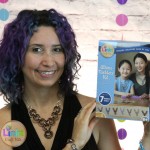 The brand new Linkt® Crafts Kit design–Athena Necklace–is now available on QVC.
To watch the on-air demo and purchase your kit, visit the Linkt Chainmaille Jewelry Craft Kit page on QVC.com, or search for product T35214 on the QVC website


The kit features a tool, instructions and enough supplies to make 7 separate necklaces in different color combinations. This kit was made especially for QVC and has a few metal colors not available in any other Linkt® Crafts Kit product. This is a Level 1 Apprentice project, perfect for people at all levels including those with no prior experience.

Linkt® Craft Kits was created by Neat-Oh! International, a successful specialty toy manufacturing company, and Rebeca Mojica, founder of Blue Buddha Boutique. Driven by a desire to make this artform accessible to all, Rebeca and Neat-Oh! developed new tools and materials to revolutionize this craft. The product was named one of the top 5 Innovations Center finalists at Creativation 2017. Another Linkt® Craft Kit design, Bubble Loops, won a Best Toys for Kids 2017 award from ASTRA (American Specialty Toy Retailing Association).
For updated information and to find out when new designs for Linkt® Craft kits are available (yep, we're already working on the next collection!), follow Linkt Craft Kits on Facebook!
Have fun, get Linkt™!