ASTRA Best Toys for Kids 2017 and Oppenheimer Toy Portfolio Gold Seal 2017 Awards
The five introductory Linkt® Craft Kits from Neat-Oh! International make it easy for children, tweens and adults to make professional artisan-quality jewelry. In the few short months since we launched, Linkt® Craft Kits have already won several industry awards: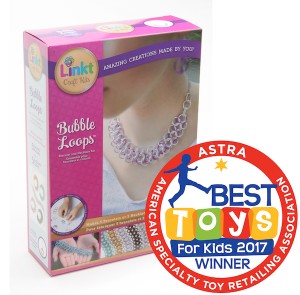 We are honored to have received a Best Toys For Kids 2017 award for our Bubble Loops kit!
This award comes from ASTRA: American Specialty Toy Retailing Association. Products are nominated by toy store owners around the country, so this award means a great deal to us. These shop owners are experts when it comes to selecting quality toys and gifts, especially for the hard-to-please tween market. We greatly appreciate this support from specialty retailers and love that they believe in our product!
Thank you store owners and thank you ASTRA! We're thrilled.
Linkt™ Craft Kits was created by Neat-Oh! International, a successful specialty toy manufacturing company, and Rebeca Mojica, founder of Blue Buddha Boutique. Driven by a desire to make this artform accessible to all, Rebeca and Neat-Oh! developed new tools and materials to revolutionize this craft. The product was also named one of the top 5 Innovations Center finalists at Creativation 2017.
Each kit, priced at $20, has everything you need to complete multiple projects in a single box. You can make up to 20 pairs of earrings, or 5 necklaces, or 5 bracelets—mixing and matching metal and silicone rings in a variety of colors so every single piece is different.
Support small businesses! Purchase Linkt® Craft Kits at specialty retailers across the US/Canada or in the Blue Buddha Boutique Etsy store.
For updated information and to find out when new designs for
Linkt™ Craft kits are available, follow Linkt® Craft Kits on Facebook!
Have fun, get Linkt®!

Buy Linkt Craft Kits on Amazon.com:
LEGAL NOTE: Some of the links in this article are affiliate links, which means I earn a few pennies for any transactions you make on Amazon after following those links. Any little bit helps keep the lights on, so I appreciate your clicks and purchases very much. Thanks for supporting independent artisans and small businesses!