Necklace & Earrings Set in Aluminum + 2 Colors
Along with the stainless square-wire Just One Ring bracelets, the original Just One Ring JPL kit has been updated for 2021. I've adjusted a few ring sizes, but the project is essentially the same as the prior kit release. If you know how to weave Jens Pind, you should be able to complete these projects by following the diagrams below.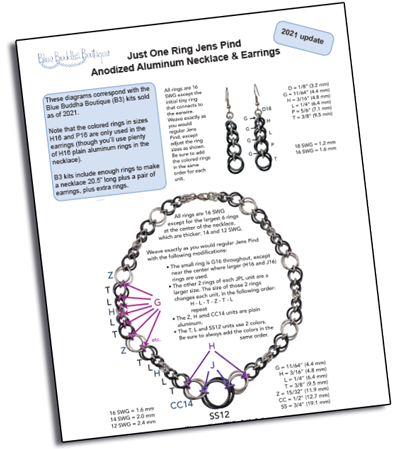 Download a PDF with the earring and necklace diagrams conveniently shown on a single page.
Then grab your J1R JPL necklace & earring kits in the B3 Etsy shop. I'll be putting together another colorway for this project at some point, so if you have any requests, please let me know. (It's a bit tricky doing colors in this piece, due to needing to match dye lots across so many different sizes and limited color options for the largest rings … but there are still several beautiful color possibilities.)
TIP: Weave about an inch of standard Jens Pind 3 in 16 SWG, and then transition to Just One Ring. Working from a starter makes it easy to add the larger Just 1 Ring links in the proper spots.