If you're wondering what chainmaille projects to tackle with those size T14 – 14ga 3/8″ (9.5 mm) rings, check out the post below for weave ideas as well as where to get instructions for each one.
Weaves Idea: T14 – 14 SWG 3/8″ (9.5mm)
Wire Gauge = 14ga SWG (0.08″ / 2.0 mm)
Inner Diameter = 3/8″ (9.5 mm)

Hint: Use our Ring Picker tool to quickly see every metal and color we have available and in stock for this size!
Ring counts below show rings per inch (rpi) as well as how many rings for 7.5″ of material (a bracelet, not including clasp) and for an 18″ necklace.
Wiggle Weave (Möbiused 2-in-2)
T14 = 6 rpi (45 bracelet, 108 necklace)

Oval Weave (Persian Dragonscale)
T14 = 18 rpi (135 bracelet, 324 necklace)

Möbiused Rosettes
T14 = 14 rpi (105 bracelet, 252 necklace)

European 4-in-1 (Mesh)
T14 = 8 rpi (60 bracelet, 144 necklace) for a 3-row strip
approx 9 rings per square inch (if doing a wider piece)
Japanese 12-in-2 (Lace)
T14 = 14 rpi (105 bracelet, 252 necklace)
with
I16 = 27 rpi (203 bracelet, 486 necklace *
* note that this necklace does not curve well so you may wish to create a choker instead)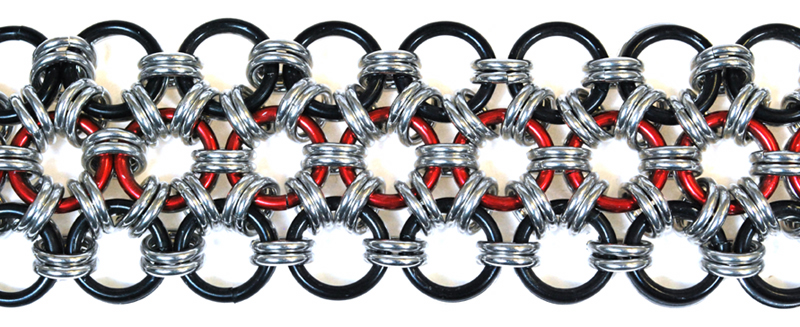 Half Persian 4-in-1
T14 = 7 rpi (53 bracelet, 126 necklace)

Half Persian 3-in-1
T14 = 6 rpi (45 bracelet, 108 necklace)

European 6-in-1 (link coming soon)
T14 = 14 rpi (105 bracelet, 252 necklace) for 3 rows

Double Spiral (Rope)
T14 = 12 rpi (90 bracelet, 216 necklace)

Dodecahedron (Japanese Ball)
T14 = 96 rings total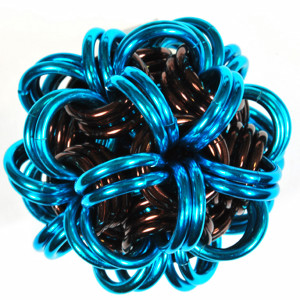 Captive Inverted Round
T14 = 11 rpi (198 necklace; too stiff for a bracelet)

Box weave (Queen's Maille)
T14 = 12 rpi (90 bracelet, 216 necklace)

3-3-3 Chain
T14 = 9 rpi (68 bracelet, 162 necklace)

Additional Blue Buddha projects which use T14 rings: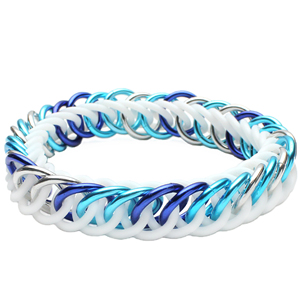 Rubber Interwoven 4-in-1