Knot and Tapered Mobius Earrings
As seen in Bead Style Magazine May 2015 - Vol 13, Issue 3.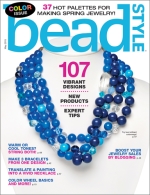 Make a simple Mobius knot by connecting three jump rings. Using brightly colored jump rings adds life to this chainmaille favorite.
Visit www.BeadStyleMag.com for step-by-step instructions. While you're there, make sure to join their mailing list to receive tons of project ideas and inspiration right to your inbox!
---

Single Mobius Knot Earrings
The first shopping list below is for the step-by-step knot project shown on pg 26 of Bead Style magazine. You will be able to make multiple pairs of knot earrings if you follow the shopping list below. The second list is for the tapered mobius variations which are not stepped out.*
Alternative sizing is as follows for the other knot variations/colors shown:
Lime + Green rings: D18 (aluminum), F18 Aluminum, L18 mobius lime + green AA.
Water mix: D18 (aluminum), H18 blue AA, P16 mobius water mix AA.
Berry mix: F18 (aluminum), L16 violet AA, X12 Mobius berry mix AA.
Once you conquer these simple knot earrings, we suggest you check out our FREE Flowers tutorial to create a matching bracelet!
D18 = 18 SWG (1.2 mm) 1/8" (3.2 mm)
F18 = 18 SWG (1.2 mm) 5/32" (4.0 mm)
L18 = 18 SWG (1.2 mm) 1/4" (6.4 mm)
L16 = 16 SWG (1.6 mm) 1/4" (6.4 mm)
X12 = 12 SWG (2.6 mm) 7/16" (11.1 mm)
---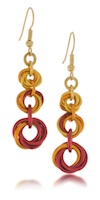 Tapered Mobius Earring Variation Designs:
D18 alum, H18 AA Lime (mobius unit), H18 AA lime, L16 AA Turquoise Mobius unit, L16 AA turq, T14 Purple mobius unit.
D18 AA gold or JBRS, H18 AA fire (mobius unit), H18 AA Fire color, L16 AA Fire Mobius unit, L16 AA Fire color, T14 Fire mobius unit.
D18 = 18 SWG (1.2 mm) 1/8" (3.2 mm)
H18 = 18 SWG (1.2 mm) 3/16" (4.8 mm)
L16 = 16 SWG (1.6 mm) 1/4" (4.8 mm)
T14 = 14 SWG (2.0 mm) 3/8" (9.5 mm)
After you've conquered these earrings make the necklace to match using our Tapered Mobius tutorial by Rebeca Mojica which includes bonus colorway ideas.
*Please note: Although the instructions for these earrings are considered beginner the larger variations require a strong, sturdy hand and a good set of pliers. If you plan on attempting the T14 or X12 versions of these projects we recommend either wide-nose Wubbers, or duck-bill pliers.