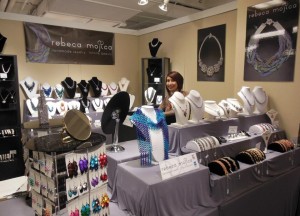 It's time for our first "Ask an Artist" post of 2013! This time, we're looking at booth setups for shows. What works? What doesn't? And how in the world do you hide all that extra inventory and other stuff from customers in such a small space? We're gonna cover it all.
Because we have so many readers who are show experts in their own right, we're doing this post a little differently. We'll still be collecting reader questions, but we also want to collect reader tips and tricks.
If you have something about your show setup that has worked great for you, send us an email at [email protected] containing the following…
A picture! Make sure we can see what part of your setup you're talking about.
A short description of what we're looking at.
Why you feel it works plus any times it has not worked and why.
We can't wait to see what you have to share and to tackle your burning questions from our own experiences. 
---
We'll be accepting questions/tips & tricks starting today and ending Friday, January 25th. Your questions will be passed along to experts here at B3 and their responses will be posted right here on our blog early February. You can submit your questions to us by posting them in the comments below, writing them on our wall on Facebook or emailing them to us at [email protected].