Over the past decade I've sold my jewelry designs at a variety of craft fairs. While each show is different, and even the same show can be different from year to year,  it seems as though the mix of jewelry I sell has remained relatively consistent. Because I'm a numbers nut, I decided to analyze my sales for the 4-day One of a Kind Show, which is my biggest show of the year.
I found the results interesting, and am sharing some of them with you. If you've never done a jewelry show before, you may especially find this interesting.
By sheer number of pieces sold, earrings were most popular, accounting for more than half of my sales: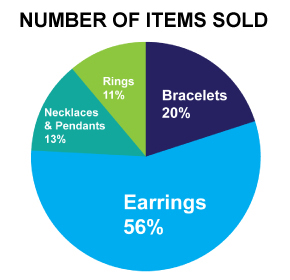 However, earrings are a lower price point than anything else I sell. So, when looking at total dollar amount of sales, you'll see that bracelets earned the most money, earrings and necklaces were close behind, and finger rings made up the final piece of the pie: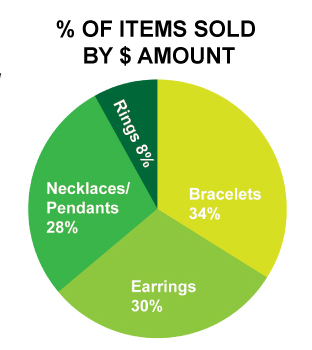 Here is the breakdown, day-by-day as to what sold: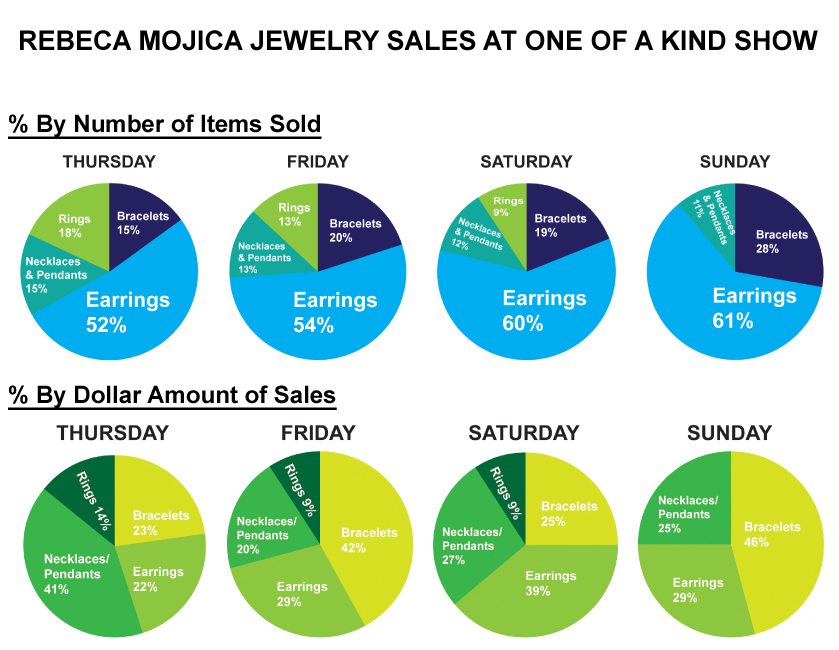 You can see that certain items were more popular on different days. In some cases, it was obvious to me why. For instance, I sold out of many styles of rings in the early part of the week, so by Sunday there were just a few rings left, and apparently people didn't like what was left.  I also had some brand new statement necklaces at higher price points. I only made one of each of these because I wanted to "test the waters" and see if people liked them.  They all sold the first day, leaving fewer (and, generally speaking, less expensive) necklaces for subsequent days.
If you make chainmaille jewelry in a variety of metals, you may be interested in the following chart showing the breakdown of items sold by metal. (AA = Anodized Aluminum; EC = Enameled Copper; ALUM = Aluminum; COPP = Copper; JBRS = Jewelry Brass; NIOB = Niobium; SILV = Sterling Silver; SSTL = Stainless Steel)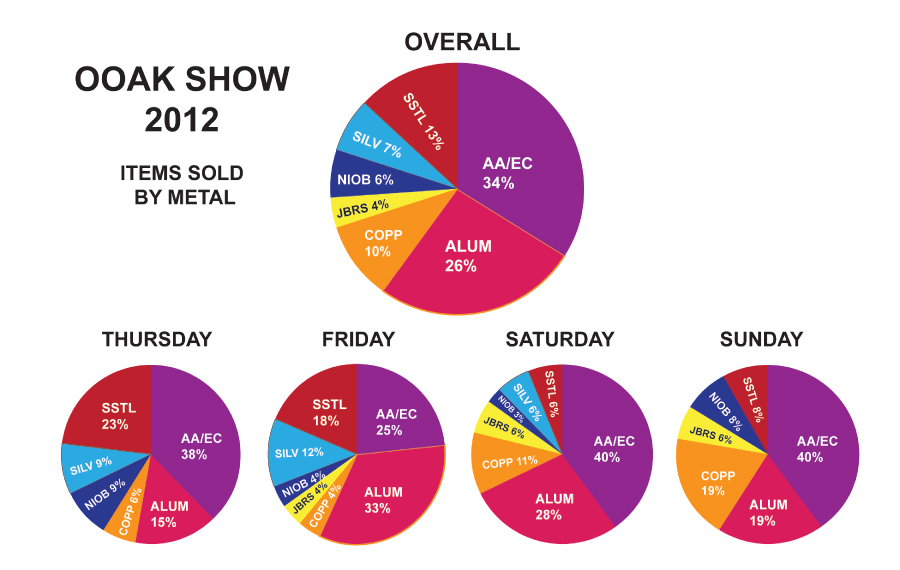 And finally, those of you who know my work know that I use a lot of color. The following word cloud shows the colors and mixes that sold during the show. The larger the font, the more pieces that sold in that color: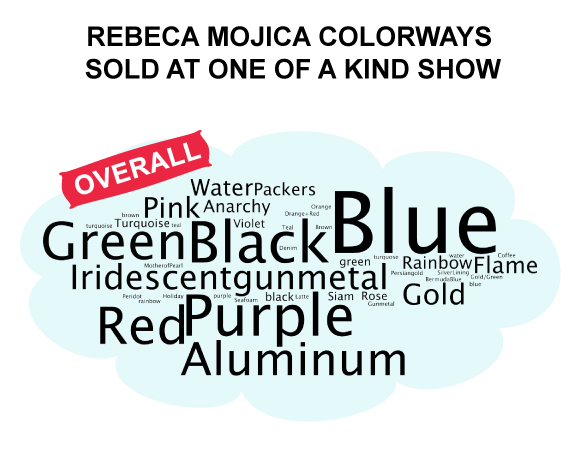 And a day-by-day breakdown. Apparently, the goths came on Thursday and the Packers fans were here on Friday.

Let me know if you think these numbers were helpful, and if you'd like to see other sorts of show analysis.
---
If you do jewelry shows, I'm curious to know what percentages you have and how they compare to mine. Feel free to share them in the comments section below!
This article is part of Blue Buddha's series: Behind the Scenes at a Craft Fair.