Blue Buddha's new Faux Gold Jump Ring Collection is now available in 11 new sizes for you to create affordable, elegant chainmaille with all the glamour of the real deal!
Made of lightweight anodized aluminum, these rings will not tarnish, keeping your piece as beautiful as the day you created it. The look of gold, at a fraction of the price.
While aluminum is technically not hypoallergenic, many folks who have reactions to copper and jewelry brass can wear anodized aluminum without skin irritation. These rings are also perfect if you're looking to spare your hands; aluminum is easier to work with than jewelry brass.
Another perk of faux gold: the price! With this gold anodized aluminum, your buck goes a lot further—hundreds and hundreds of rings further—than with gold-fill rings.
The B3 Faux Gold Collection comes straight from the creative mind of Blue Buddha's founder Rebeca Mojica. Her Phoebe collection has been a hit for two years now, and she noticed an increasing number of customers asking if she carried the same pieces in gold. "As they so often do," Rebeca said, "Customers have the BEST ideas. I mean, why not do these in gold?" She worked with the product development team at Blue Buddha to create the rings in sizes used Phoebe collection, as well as a more sizes she thought would be useful. Rebeca debuted her new gold designs to great success during the 2014 holiday season, and now, convinced of the success of these rings, she's turning them over to you to see what you will create.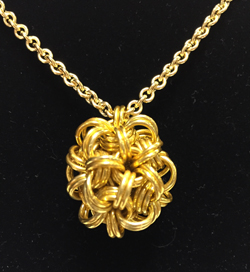 Give it a try with one of our Faux Gold Sampler Packs, and see what beauty you are inspired to create!
Need some ideas on what to weave with the B3 Faux Gold Collection? Try these:
Happy weaving!